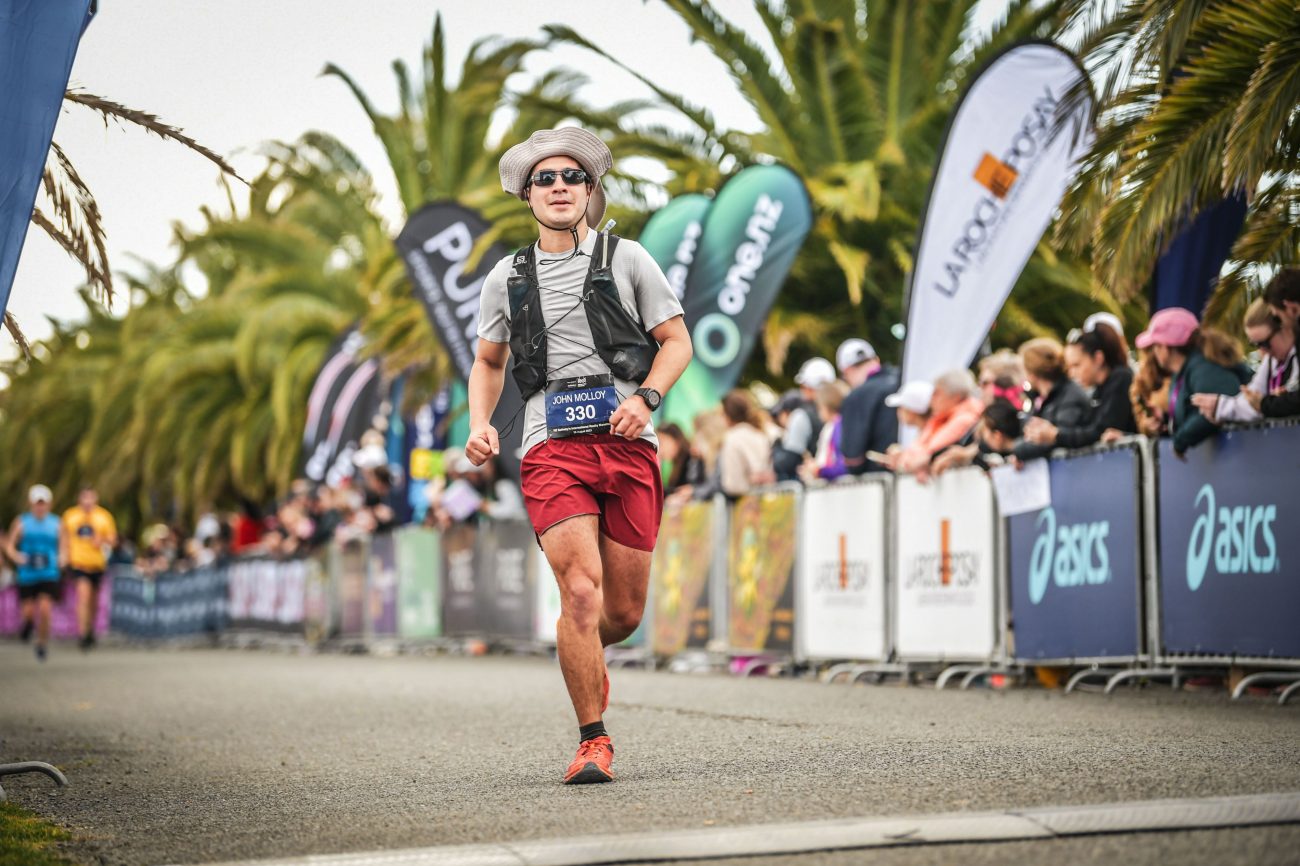 Hawke's Bay Marathon 2023:
Marathon # 102
Date:
August 26, 2023
I'd never done the Hawke's Bay Marathon before as it's normally in May which is usually a busy running month for me. However, due to Cyclone Gabrielle, the event was postponed to August so I was keen to experience it whilst also visiting family in the Hawke's Bay. My cousin Mary and her birmen cat Gertie had kindly agreed to host us in Havelock North which was a 20 minute drive from Napier. I would do the marathon, Courtney the half marathon, and Millie and Poppi would do the 2.2km kids run. As much as I tried to encourage Mary and the rest of the Hawke's Bay Molloy clan to join us, it seemed like my lot were the only 'mad ones' in the family. For many years, Mary had been concerned about my running and what it was doing to my joints despite my constant reassurances that my joints were grand. She was one of many who saw running as damaging and a fast track to a joint replacement. "Let me know if you want me to shout you a marathon (or 10km) entry" I joked. "Your knees will thank you for it!" "Thanks John" she replied. "But I have a greater respect for my health and don't use it like a machine. Everything in moderation. I'll stick with my 50 minute walks". "Ok, I may have more luck with cousin Jamie" I replied. "Good luck with that" she exclaimed. "He hasn't run in years!" Although I didn't have much luck getting the Hawke's Bay Molloy clan to join us, I managed to convince my cousin Paul from Rotorua and my other cousin Shane from Auckland. Paul would join Courtney in the half marathon and Shane would be lining up for his 12th full marathon. Come race morning, Courtney, Paul, and I arrived at Shane's motel for our pre-arranged 6.45am meet up. On entering Shane's room, we were greeted by an over powering smell of deep heat and my eye's started to burn. Through watered eyes, I managed to make out Shane (and his partner Maddie) liberally applying deep heat to his body as part of a concerted 'team effort'. "Really Shane?!" I exclaimed. "I always do this! It's my pre-race routine. It helps warm up my muscles" he responds. "You know it's the lazy man's warm up" I quip. "All the pros just do their own warm up exercises before they run". Neither Courtney, Paul, or I could stay in his motel room for very long so we hopped back into the car. Shane and I eventually get dropped off at the marathon start line at Anderson Park where there is a massive line to the toilets. Not wanting to tempt fate, we move away from the lines and find somewhere peaceful. Whilst waiting, we bump into Normie and his crew (serial marathon offenders) and chat for a bit. "Not long to go now" the loud speaker calls out. "If you're nervous, that's normal. If you're not nervous, you must have ice in your veins". After my fair share of marathons, I wasn't nervous at all. If anything, I was completely relaxed. I've done enough of these to know what to expect. I just need to ease into things and then go about doing my work. There is a count down from 10 (and an air horn malfunction) but that doesn't stop 450 runners who burst through the starting chute en route to Napier.
I've been meaning to write a blog about osteoarthritis for a while and quash the myth that running is bad for your joints. Somewhere along the lines (possibly coinciding with our increasing comfort levels), running has been made out to be damaging for our joints. Even medical practitioners have been duped with the American Association of Orthopaedic Surgeons once proclaiming that running was an 'outrageous threat to the integrity of the knee'. Osteoarthritis can be post traumatic but for most of us, it's related to normal age-related change. Osteoarthritis affects the cartilage that lines your joints. The role of cartilage is to absorb load. Your joints' ability to absorb load reduces from your 30s which is related to age related cartilage changes. Unfortunately, as we age, our inherent ability to regenerate cartilage isn't great. And although medical treatments hoping to address this have been promising, none have truly delivered. In reality, the only 'cure' for osteoarthritis is youth. I'm also very careful with the words I use to describe osteoarthritis. I don't say osteoarthritis is 'degenerative' or 'wear and tear' as using this terminology will result in disuse and fear of creating more damage. I explain that osteoarthritis is normal age-related change. How it is like wrinkles or gray hair for your joints. And though we can't see the inside of our joints, this same process is occurring. A joint is designed to be loaded. It loves to be loaded. It's not designed to be disused and over protected. I dislike it when people describe running as 'pounding the pavement'. Rather, good runners have learned to maintain a healthy weight and run quietly/lightly to help negotiate the increased loads associated with running. So, what does the current evidence say? The British Journal of Sports Medicine (BJSM) published an infographic on running myths (Alexander JLN 2020) that concluded that recreational running is not harmful for knee joint articular cartilage in runners without symptomatic knee osteoarthritis. In fact, participation in recreational running may provide a protective effect against the development of knee and hip osteoarthritis. Higher rates of knee and hip osteoarthritis have been reported in runners exposed to elite level training loads (13.3%) but also in sedentary people (10.2%), whereas it is much lower in amateur/recreational runners (3.5%) (see graph below). Another study of active marathon runners (Ponzio et al, J Bone Joint Surg Am, 2018) showed that 8.8% of active marathon runners (mean age 48 years) had osteoarthritis compared to 17.9% of age matched controls. Another study on marathon runners (Horga, BMJ Open Sport Exerc Med, 2019) showed that marathon running did not result in progression of meniscal tears AND their presence did not affect performance. Therefore, runners who have knee osteoarthritis should feel safe continuing to run though they may benefit with running less frequently to allow for sufficient cartilage recovery time between running bouts. Also, running does not appear to accelerate the progression of existing knee osteoarthritis in runners greater than 50 years of age. Hence, it is currently not sound advice to tell a runner with knee osteoarthritis who is managing their symptoms to cease running. A systematic review and meta-analysis that looked at the influence of running on lower limb cartilage (Khan et al, Sports Med, 2022) showed that running does not induce the formation of new cartilage lesions in the knee joint. Results suggest that cartilage recovers well from a single running bout and adapts to repeated exposure. Our bodies are resilient and love to be loaded. Running is not damaging. The problem is that we've forgotten how to run and have become so deconditioned by our modern-day life styles that we're 'hurt' easily whilst running. We've made a lifestyle out of lazing around. We also work for up to 50% of our day and then spend 2% of our day going for a 30 minute run and expect to be good at it. People start running to get into shape rather than getting into shape to start running. Our priorities influence our outcomes. Yes, higher rates of knee and hip osteoarthritis have been reported in elite/professional runners. But rates in sedentary/overweight people isn't that much different. Somewhere in the middle, recreational runners all over the world have hit the sweet spot and are obtaining a protective effect against osteoarthritis.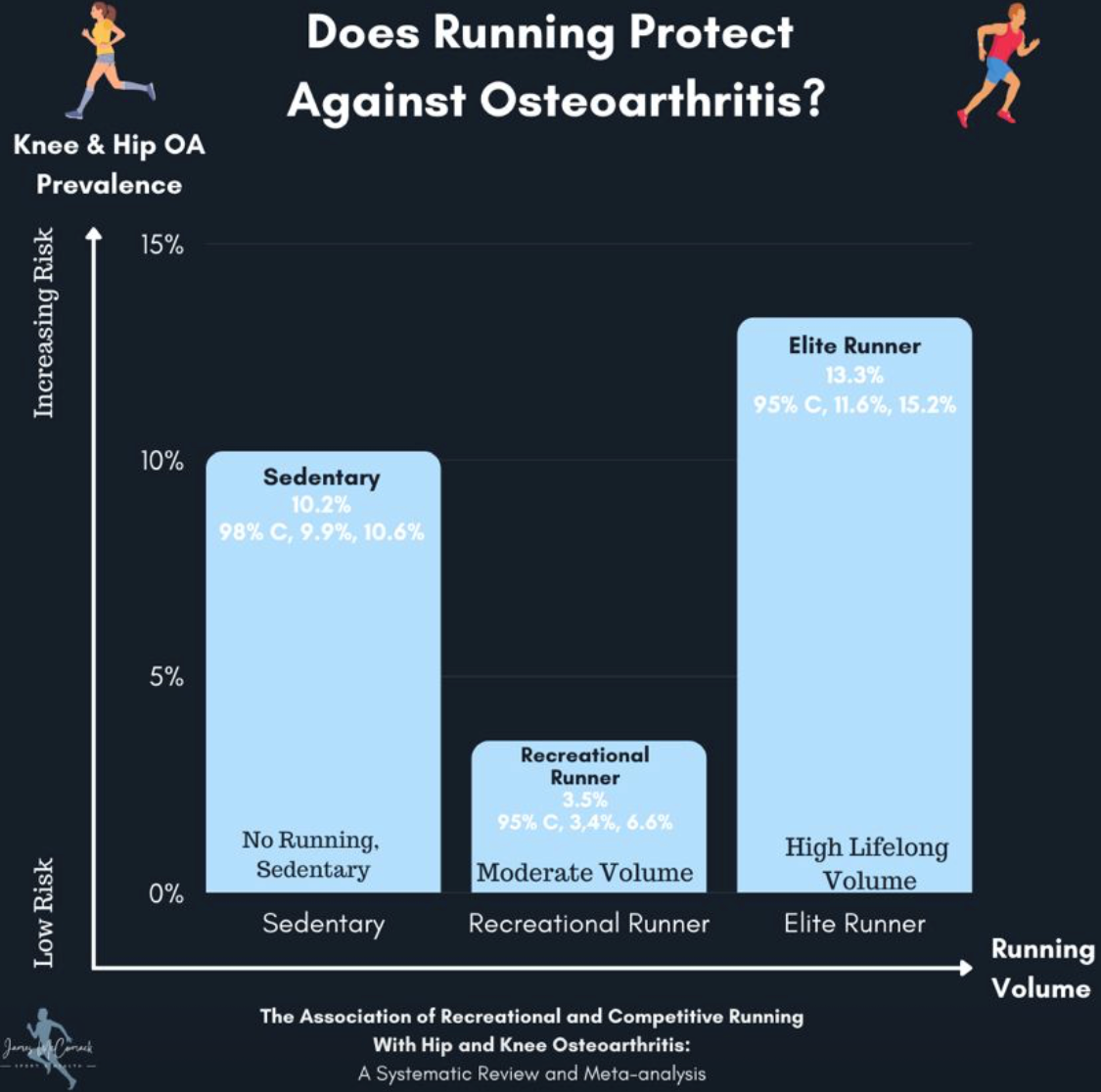 As I leave Anderson Park, we're in suburbia for a bit before we hit the good stuff around the Ahuriri Estuary. The road and foot paths are replaced by smooth limestone trails which makes for good running. Surrounded by aquatic plant life and water birds, it's much easier to relax into things. At no time am I 'pounding the pavement' but rather the focus is on running easy, lightly, and quietly. I maintain a high cadence whilst my legs cycle beneath my body and running feels smooth. We cross over boardwalks and bridges until we're back in civilization again and heading towards the Port of Napier. I smile at the 'Go dad!' and 'I've been training for months to hold this sign' placards held by supporters along the way. Once past the port, it's essentially straight down the Napier coastline with the ocean by my side. I recognize the Norfolk Pine lined Marine Parade which is the half marathon start line but also marks the half way point of the marathon. As I pass The National Aquarium, I add it to my list of things to do with the kids tomorrow. Although this course is relatively flat and conducive to easy running, every marathon becomes harder from 30km (for the Hawke's Bay Marathon, 30km is around the Waitangi Estuary near Clive). I focus on running smoothly and quietly along the coastline and river banks. Along farmlands, through orchards, and past vineyards, I remain light of foot. As I approach the final stretch, I gaze out towards the ocean for one last time and take in the views out to Cape Kidnappers. Eventually, I cross the finish line at Elephant Hill Estate & Winery for a finishing time of 3 hours and 49 minutes. I move hastily past the free beer and wine stands and towards the Pure Nutrition stand. I'm offered a Pure Exercise Recovery smoothie and a plate of hot chips which goes down a treat. Although I'm pretty keen to relax for a bit, both Millie and Poppi insist that I join them for their kids run. I politely decline but I'm met with howls of protest so I succumb and hobble towards the kids' start line with an ever-stiffening gait. Whilst waiting, I inadvertently get roped in to the kids warm up. Before long, I'm performing high knees, high heel flicks, a new kid's dance, and star jumps all whilst barely surviving. Surrounded by all this youthful exuberance, it's hard not to feel intimidated and I share my fears of being left in my dust with another concerned looking father beside me. As I experience my second countdown from 10 today, the MC announces "If you want to be 1% faster, just SMILE". I can barely manage a grimace as I cross the start line whilst the kids sprint ahead of me. Unlike the marathon which was mainly on hard-packed lime stone trails and sealed paths, the kids run was much harder as it was through thick grass with a large mud pool obstacle at the half way mark. I manage to keep up with Millie and Poppi for most of the 2.2km as we course around the vineyards. Near the end, I encourage Poppi to finish strongly and she sprints ahead leaving Millie and I to finish together. Despite the initial start-up pain, my body (and joints) actually felt much better following the run. I guess that ticks off my 'recovery run' for the weekend! Running is medicine.
Helpful tip
Participation in recreational running may provide a protective effect against the development of knee and hip osteoarthritis.