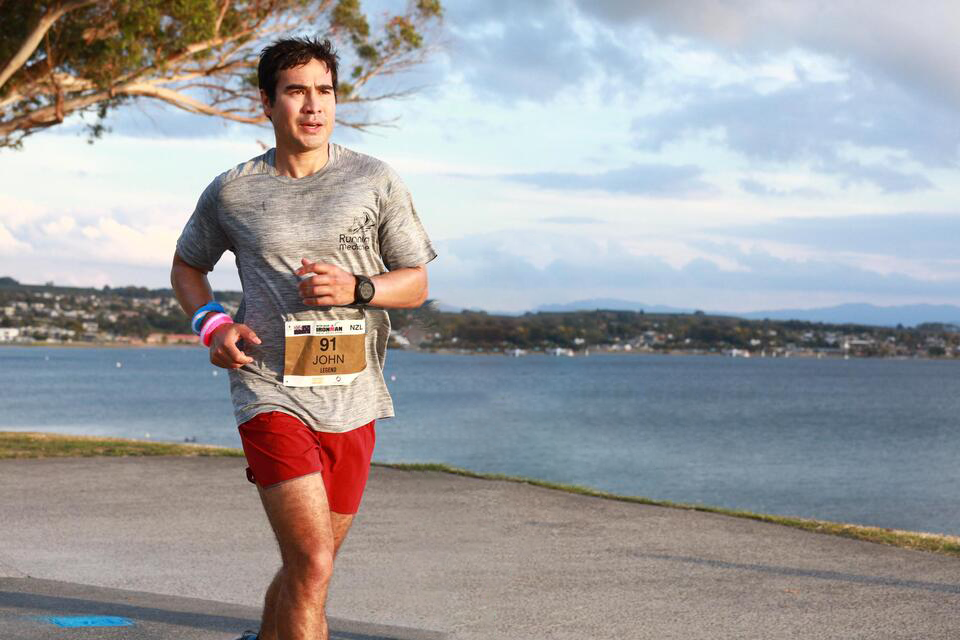 Ironman New Zealand 2021:
Ironman # 14
Date:
March 27, 2021
"One Ironman a year" I said after completing my first Ironman in 2007. Prior to this, I had been a reasonable runner who was running at least 5 marathons a year. When I first started running, 'no more than 3 marathons a year' was the accepted notion so I was already going against the grain. I simply thought that this logic didn't apply to me as I was a 'recreational runner' rather than someone who was trying to win races. I was beginning to fall in love with marathons and naturally the idea of running an Ironman marathon took hold. The conundrum being that I had to negotiate a 3.8km swim and a 180km bike ride even before reaching the marathon start line. Not to mention the other problem that I couldn't swim. But after a year of training, the hallowed words of "You are an Ironman" were spoken as I crossed my first Ironman finish line. I had survived the swim, negotiated the bike, and endured the run. By the time I had reached the marathon start line, my trusty running legs were AWOL and I was legless. The Ironman marathon was a masterclass in how to slowly and clinically dismantle someone. At the time, the Ironman was the hardest thing I had ever done. Although some may interpret "One Ironman a year" as a smattering of arrogance. Truth be told, I found my first Ironman so hard, I couldn't imagine doing more than one a year! I was able to consistently back up marathons but an Ironman was on a different stratosphere altogether. And so, rightly or wrongly. For no rhyme or reason (maybe sheer stubbornness), I've done one Ironman a year since (bar 2018 when the Alps to Ocean 316km stage race was on). Through hospital work, weddings, an Army deployment to Afghanistan, specialist training in Australia, specialist medical exams, children, and now COVID-19, I'm at the swim start again. This year was my 12th NZ Ironman (14th Ironman overall) and I'm still as nervous as I was in 2007. I make sure my goggles are well sealed and take the plunge into the lake to prime my wet suit. The cold water electrifies my spine and my breathing reflexively picks up. Everyone is waiting for the starter's cannon to go off. A mixture of nerves and excitement dissolves into the water around us. I try control my breathing and reassure myself – "One Ironman a year".
It takes me a while to get into a swim rhythm this year. COVID-19 delayed the start by 3 weeks so the water is appreciably colder. My breathing is tight and I'm unsure if I need to inhale or exhale. It's very easy to get caught up in the catecholamine induced quick start, so I slow my stroke and reign in my ego which helps. Not being a very good swimmer, I try keep away from the swimming pack. I like my personal space and have never been good at drafting. Following the person in front of you can also be a bit hit and miss as you can easily swim off course. Hence, I tend to trust my own navigation abilities (albeit dodgy) rather than trust other aspiring misguided open water swimmers. I eventually establish my own swimming rhythm and ease into my work. As the lake is reasonably calm this year, I exit the swim in 1 hour and 27 mins. The 180km bike ride is always a big day in the office. Thankfully the outside office is reasonably calm today with light winds for the first 90km. But everything in life is temporary and nothing good lasts forever. By midday, the wind picks up and it's a challenging north easterly head wind on the second lap to Reporoa. Being a relative 'light weight', I stick to my strengths and treat the headwind like a slow uphill climb and put the pedal to the medal. I finally reach the turnaround point and the last 40km back to Taupo is aided by a nice tail wind. Conscious of not losing my running legs this year, I ease back a bit from 160km in preparation for the run. I arrive back at bike transition just under 6 hours and 30 mins which I'm reasonably happy with. Years of Ironman has taught me that if you have a good bike, then there's a higher probability that you'll continue that good form and have a good run. If you come off your bike worse for wear, then there's a harsh life lesson just around the corner called a full marathon. As I start my run, a jubilant supporter shouts out "You've only got a marathon to go". Yes, 'only' a marathon to go.
Running a marathon with tired legs is no easy feat. I maintain a sub 6 min km pace for the first 5km but inevitably the overall fatigue catches up with me. I hit a wall quite early on around 15km. It's the usual stuff again. My feet are sore and my legs are heavy. I feel completely drained and the brain fog starts to settle in. Running becomes clunky and cumbersome. I see my wife on the course and I can tell that she knows I'm struggling. Although she doesn't say it, she has a facial expression that would translate to "You look like sh*t". I know I need to urgently tend to this rot. It doesn't get any easier running through a wall but I've been here enough times to know what to do. I guzzle some orange juice, swallow a Leppin Squeezy, and take some paracetamol/caffeine tablets. During moments like this, you just need to keep moving, think positive thoughts, remember why you're doing this, and be grateful for this moment. Every wall no matter how high, long, or formidable, has a door. You just need to find it. Everything starts to click into place and my running legs return. I know I'm back in the game when complete strangers start telling me "You're looking good". A complement I would never receive outside of running. I resist the urge to walk and hold on to the momentum for the remaining 25km. I cross the finish line 12 hours and 49 mins later doing a 4hr and 39 min marathon. The hallowed words are spoken again, "You are an Ironman". It's a personal best time for me and I can tell because I feel mildly sick. The covenant is sealed for another year. One Ironman a year. No more. No less. Running is medicine. Join me at my next blog, the Coastal Ultra 71km and the Christchurch Marathon (the latter if I feel strong enough).
Helpful tip
A good bike more likely than not will translate into a good run and hopefully a 'good day' overall.