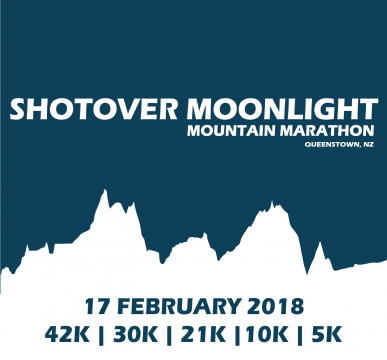 Shotover Moonlight Mountain Marathon 2018:
Marathon # 80
Date:
February 17, 2018
Absence makes the legs grow fonder! After a refreshing Christmas and New Year's break, it's nice to welcome 2018 with a favourite past time of mine – running a marathon. Running marathons quenches my thirst for adventure. It is a way of connecting with my inner child. An opportunity to lose oneself in play. The Shotover Moonlight Marathon is an off road marathon run through the Ben Lomond High Country Station in New Zealand's adventure capital – Queenstown. I couldn't think of a better adventure for my 80th marathon. Fleeing from work after lunch on Friday, I rush home and hurriedly pack my running gear. Before long, my wife, 2 year old daughter, and two dogs are safely tucked into the car as we leave Christchurch for Queenstown. We arrive just before pre race registration closes and then share a pizza carbo loading meal with family and running friends. After some late night running preparation, a long week draws to an end and its lights out by 11pm. My 5am alarm ushers the start of a new weekend. Accompanied by my running friend, Dr Tony Page, we take a bumpy 45 minute off road bus ride to the start at Skippers Canyon. We then walk across the Pipeline Bridge (bypassing the bungy jumping platform) and descend towards the start line on the sand beside the famous Shotover River. By now the child within, suppressed by the working week, has been set free. Heart beating and adrenaline pumping. Poised at the start line. Ready to run a marathon. Ready to play!
Running along historic abandoned gold mining water races and rusting gold mining relics, I am transformed into a child again. Disinhibited. Freedom of movement and thought. When you were young, you did not think about running. You just ran. It was spontaneous and effortless. I had found a new playground to explore. I was running and not going to stop. Slipping down and along sheep tracks in the rain. Running along mountain ridges. Chasing the river through magnificent beech forest. Racing the water until it would build speed, turn white with turbulence, and then eventually win. Ascend mountains high into the clouds under the warmth of the sun. Descending swiftly and gleefully through tussock lands. Wading up a refreshing waist high river and then climbing a ladder next to a gorgeous waterfall. Sliding and laughing down a steep slope of scree as the scree fills your shoes. Over razorback ridges and contouring hills along single track. Across river valleys and through creeks and freshly flowing river beds. Exploring a tunnel with new friends. Breath and movement. Ease and effort. Completely absorbed in the now. Mesmerized by the moment. Lost to the adult world. Lost in play. All being an adult really means is that you need to take responsibility for yourself and others. Growing up doesn't mean that you need to stop playing. It doesn't mean that you can't have fun. Running is one step closer to playing. Running helps you connect with your inner child. Running helps you remain a kid at heart.
As I spill over the finish line, over 8 hrs and 30 mins later, I am totally worn out. I am totally played out. The Shotover Moonlight Mountain Marathon was arguably the toughest marathon I had done to date. Gruelling but fun. Tough but exhilarating. My wife and 2 year old wait for me at the finish line. My daughter naturally runs to me smiling and laughing. Innocent, carefree, and uncomplicated. It is a beautiful sight. I hope to run like her one day. The race finishes at the picturesque Moke Lake. It is a stunning backdrop to a spectacular course. I take a quick dip in the cool lake whilst I get my breath back. New Zealand is incredibly breathtaking. This truly is God's land. We are so lucky to grow up here. Running is medicine. Join me at my next blog, the inaugural Alps to Ocean Ultra Run (316km over 7 days). New Zealand's first ever ultra staged race. Looking forward to it!
You don't stop running because you get old. You get old because you stop running.
Christopher McDougall