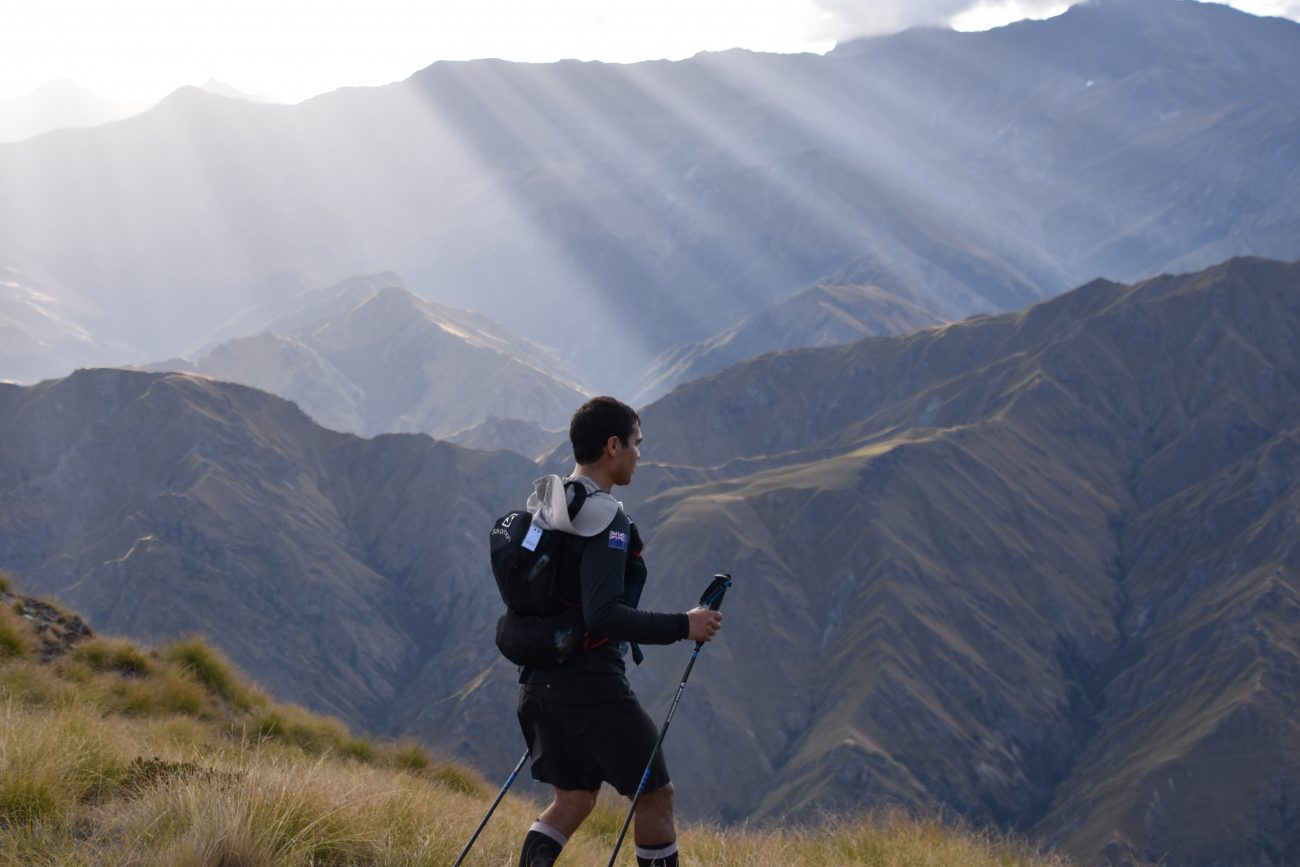 Southern Lakes Ultra 2022 (264km/7days):
Multiday # 4
Date:
February 20, 2022
SLU Diary
Pre-race
The hardest part of any race is getting to the start line. The Southern Lakes Ultra (SLU) is a 264km stage race over 7 days with greater than 10 000 metres of elevation gain. With Omicron brewing, uncertainty reigned and events around the country were cancelling again. So, as we had our welcome event meal and briefing overlooking Queenstown, I couldn't help but feel extremely grateful and lucky. Grateful as I've made another start line. Lucky as the event organisers had decided to push on. It's unfathomable to grasp the amount of work and stress that comes with organising an event such as this (yet alone during a dynamic and uncertain pandemic environment). The 2021 event had been postponed and rolled over to 2022. The 2022 event subsequently remained exclusively for New Zealanders with Omicron keeping the border closed. Willing Australian and other international runners would have to wait another year to run in our beautiful and rugged back yard. Despite all these obstacles, Kerryn and Jason Bell (event organisers and ultra runners themselves) remained resolute. With a restricted field, I doubted they were making any profit out of this. It became clear that this event was fuelled by a big heart, passion, and sheer stubbornness. An opportunity to play Santa Claus to us runners whilst giving back to their community and showcasing Queenstown. Glenn Marvin, the MC (who was also an ultra runner) was revelling in being surrounded by a group of like-minded people. In his words, 'like-minded people who for some reason enjoyed punishment!' He became giddy with the prospect of the 'collective suffering'. And then, like a firecracker about to explode, he climaxed with "Shit gets real!" This would be the first but not the last time Glenn told us this. (In fact, for the rest of the week, most of Glenn's speeches seemed to start with this statement). It was then Kerryn's turn to talk. She softened us up by talking about wanting to make a stage race for everyone before going for the jugular and addressing the mental DNF. Arguably this goes straight to the heart of most ultra runners' greatest fear. She urged us to think of our 'why' to help counter this. She seemed determined that all of us would finish. Without explicitly saying it, she implied she would accept a physical DNF (i.e. a broken leg) but not a mental DNF. I look over towards Dr Andrew Stanley to see if he is quivering in his boots. Instead he has a steely look in his eyes and appears calm and focused. He nods his head and flexes his muscles (the latter are getting harder to see these days). We seem to both read each other's minds. This isn't a race for everyone. 264km and 10 000m elevation gain isn't for everyone. You can attend but you simply can't complete an event of this magnitude without adequate training. On honest reflection, most DNFs (physical or mental) are secondary to poor preparation and training. Hopefully for most, the shit got real 2-3 months ago during the peak of their training. Running 44km, 55km, 26km, 69km, 47km, and 16km over a week is one thing. But combining this with 10 000m of elevation gain demands adequate training! And so the stage was set.
Stage 1 – A detour off course (Distance 44km, total ascent 750m, total descent 830m, finishing time 6hr 27 min)
Our first camp night was at Dingleburn Station (i.e. a farmer's backyard) next to Lake Hawea. Having all been allocated tent spaces, it's at this point you hope the strangers you'll be sharing your tent space with for the next week aren't strange. Each tent sleeps 6 people and is configured as 3 x 2 person spaces. Often by default, the guys group together and the ladies group together so there's no gender mixing. By random chance, Dr Esther O'Sullivan and myself have been allocated into the same tent group. Having conducted some private investigation in the days prior, I tell Esther that we're also sharing with a couple (Craig and Claire) so that left her the options of sharing with myself, a lady called Sally, or another doctor called Roland. These can be difficult decisions to make but Esther and I both side with the 'better the devil you know' approach. We decide to share a tent space together leaving Sally and Roland with a potentially awkward introduction. Dr Stanley on the other hand, ends up sharing a tent space with a somewhat fabled character simply known as Dennis. He was a "69 years young" slightly quirky and dishevelled man who loved a good yarn. "I'm a professional athlete paid by the New Zealand government" he tells me. I sense Dr Stanley will have an interesting week. My sleep the night before is quite broken. I don't remember my air mattress being so uncomfortable. Or maybe I was just too tired to notice when I last used it during the Alps to Ocean stage race in 2018. Come morning, the excitement builds and I'm ready to go. Previous stage races have taught me to start conservatively in order to save energy for the second half of the week. But I struggled to control my pent-up energy and ran hills I probably should've walked. I then got caught up in a small duel with another runner called Graham whom I noticed earlier was wearing an Ironman shirt (be careful of the Ironman athlete – often these athletes don't like getting passed). Just prior to the first aid station, he gestured left to a foot track to the side of the road and then pointed right to another turn off on the road. Whether it was purposeful or not, I'm not sure. But I think it threw me and I just braced for a turn off. I remembered reading somewhere in the race manual that we had to leave the 4WD road after check point 1 and then follow a path. I was just behind Graham leading into the first aid station. But on looking up after filling my drink bottles, he was gone in a flash! Not seeing the sharp dip in the 4WD road I was meant to stay on, I veered left into the dense bush trail I thought he'd disappeared down. And off I went. For the next wee while I ventured along a formed but very gnarly and intrepid track. There were multiple river crossings (some as high as your waist) that were challenging to cross even with trekking poles. How are people without running poles expected to do this? I thought. A portion of the track was also cleaned out by rock slide so there was some precarious rock hopping. The track was so windy and the bush so dense, it seemed conceivable there were runners in front and behind me but you just couldn't see them. There also appeared to be fresh foot prints after the river crossings. I didn't remember Kerryn talking about all these river crossings. Was this a race director surprise? The track was technical enough to demand my full concentration so I got caught up in the moment. When the river I was following opened up into a large river bed and the track became harder to follow, an uneasy feeling of something not being right set in. I hadn't seen another runner in a while. Fearing I was lost, I sat down in a very obvious location where anybody could see me and pulled out my race manual. To my dismay, my race manual had almost disintegrated by the condensation from my spare water flask. Murphy's law – Anything that can go wrong will go wrong. I attempted to read the instructions for stage one that were full of holes and falling apart. Luckily, a small section was still readable and read "leave the 4WD road and follow the path down to the beach". The sickening reality set in. I was following a river and there was no beach in sight. I turned around and headed back. It was a lonely walk. On the way back, I placed my shoe next to a well-formed shoe print on the other side of the river crossing. My shoe print left no mark. Bugger. An old shoe print. By the time I back tracked to the first aid station, I'm sure I crossed that river about 20 times. I was relieved to see the aid station volunteers but they were slightly bewildered to see me again. So was my tent mate Sally who was walking. "What are you doing here?" she asked. "I went the wrong way. My fault" I answered. "How long have I been gone for?" I asked the aid station crew. "We checked you off an hour and 15 minutes ago" answered Emily on timing duties. I sighed deeply. "Ok, which way do I go?" Another volunteer Cynthia pointed in the direction of a very large mountain. I looked up at the large mountain. "F*** off!" I replied in dismay. "Up that thing?" "No! Follow the road!" she exclaimed. "There is a dip in the road! Stay straight on the road until the turn off!" After this, I did exactly what Cynthia told me. I stayed on the road, took the turn off towards the beach, and remained on course for the rest of the run. I pushed quite hard to try make up for lost time and passed a few tail enders along the way. By the time I reached the finish at Albert Town, I'd probably done about 50km instead of the scheduled 44km. Certain parts of my feet were hot from the rocks I neglected to remove after all my river crossings. Luckily it was still mid-afternoon so there was still plenty of time to recuperate and recover. Everyone in my tent had finished except for Sally who was still out on the course. I tried to keep my detour on the down low but word spreads fast in a small group. And so it came to be known that I was the only person who got lost during day one. For the remainder of the week, others who also got lost felt compelled to tell me their own lost stories. I'm not sure why but they did. I just compassionately nodded my head and responded "Yes, it's easy enough to do."
Stage 2 – Getting lost again and managing hot spots (Distance 55.5km, total ascent 610m, total descent 610m, finishing time 7hr 35 min)
Come day two, we were allocated into three starting groups based on our finishing times. After my escapade yesterday, I'd been allocated to the 'middle of the pack' runners. Dr Stanley (who actually won the stage yesterday) and Esther were in the fastest starting group. I actually didn't mind this as it meant I could keep my ego in check and pace wisely. Leading up to the start, I was a bit apprehensive about how my feet would feel so I was relieved when my shoes slid on nicely. Phew. That's a good start. My tent mate Craig who knew the area quite well, also had his own concerns about the heat. "I'd much rather start at 7am whilst it's cool. It's quite exposed out there and there's not much shade" he mentioned. All the more reason for a conservative start I thought. Our group started at 8am, 30 mins after the 'back of the pack' runners, and 30 mins before the faster runners. This was the race organiser's bid for people to get to know and encourage each other. Despite running relatively easy, I was soon the lead runner in our group. I eventually caught up with the other walkers and runners in the first starting group who were already widely spaced apart. Like the day before, I was running by myself but enjoying myself. I then hit a 50:50 junction. Hmmm. No red and white markers. The course had been reasonably well marked until now. Maybe they didn't think this was critical enough to mark? I thought. However, it seemed very 50:50 to me so I took the left veer which seemed the most obvious continuation of the track. I ran until I started to get that strange feeling again that something wasn't right. "You shouldn't get lost", Kerryn had told us in her brief earlier. "Just keep the Clutha River to your right." The problem being, the Clutha River was now directly in front of me and I knew swimming across the mighty Clutha wasn't anywhere in the race brief. So I back tracked to the 50:50 junction and took the right veer. But that eventually lead me back to where I'd just been. I back tracked again until thankfully I came across a collection of red and white markers and another competitor called Darryl (whom I passed previously) and causally said "Hello". The red and white markers lead us off the well-formed track and across a grassy field. Back on course, I proceeded to pass the same walkers and runners I'd passed earlier. When I arrived at the first aid station, a volunteer called Gus congratulated me. "Well done John! You've made it to the first aid station. We were worried you'd get lost." I bit my bottom lip until my tent mate Craig spotted me and blurted out "He's done it again! You were miles ahead of us!" "Yeah, I think I went off track for a bit" I responded. And so it came to be known that I'd got lost for the second time. For the remainder of the run, I remained hypervigilant and made sure the Clutha River was to my right the whole time. What concerned me was that yesterday was a rush of blood. But today, I thought I was concentrating and still got lost! At this rate, I'd be running more than 300km if I wasn't careful. After the first aid station, I was beginning to feel some old and new hotspots. Unlike yesterday when I ignored 'hot spots' on my feet, today I stopped to address them all. For stage races, I've adopted the principle of 'treating hot spots and not blisters'. 264km of running is hard enough without complicating it with blister management! As the day wore on, the relentless sun and heat came to the fore. I didn't top up my water flasks fully at the first aid station and I was starting to regret this. I'd been led to believe that I could just fill up my water from the Clutha River next to the trail. However, the Clutha wasn't that accessible and there was quite a drop (and some extra effort to get to it). Running low on water, I eventually topped up at a small stream just off the main track and sculled 500mL and felt much better. The stream was flowing but nowhere near as fast as the Clutha. I didn't think too much of it at the time until I passed someone walking their dog within 5 mins of my water stop. The area was more residential than I thought. In retrospect, that small stream doubled up as the perfect dog swimming AND toileting stop. I hope that water is ok I thought. The second half of the stage coursed through Lake Wanaka township and then around Lake Wanaka towards Glendhu Bay. After lots of flat running and pushing/holding a pace, the last 7km of the stage was undulating which was a welcome change. Though I could see our camp ground in the distance, it seemed to take an age to get there. When I finally finished, I headed straight into the lake for a recovery dip. By now the wind had picked up creating waves on the lake so it wasn't the most pleasant experience. A necessary evil I guess if one wanted to be clean and enhance recovery for the next stage. After a couple hours, I managed to spot my tent mate Roland cross the finish line. I rushed over to give him a congratulatory hug when he almost collapsed over the finish line. He was covered in a slimy sweat and didn't look good. He mentioned vomiting during the course due to nausea and having abdominal cramps. I wasn't sure whether he had really bad heat illness. Had he overcooked himself? After a while, Roland managed to make his way to our tent but he was very unsteady on his feet and struggled to hold a conversation. The stage had really taken it out of him. As we headed to bed around 9pm, Gus came over to our tent and asked if we could set up Sally's bedding as she was due to come in quite late. "We've given her a head lamp. She's confident she'll finish but she won't get in till after dark" she told us. Goodness. The cut off time was 10pm and I didn't think the organisers had anticipated people to finish in the dark. Claire kindly set up Sally's bed space and I headed off to bed. It was only day two and already competitors were being pushed to their limits.
Stage 3 – A fun day in the mountains (Distance 25.5km, total ascent 2200m, total descent 1900m, finishing time 8hr 16 min)
I don't know where I'm goin'
But I sure know where I've been
Hanging on the promises in songs of yesterday
An' I've made up my mind, I ain't wasting no more time
Here I go again, here I go again
There's that odd song again (Here I Go Again by Whitesnake). Someone is walking around our tent with this song on full blast. I've never heard it before in my life but for the last 3 days, I've woken up at 6am to this song. It's like a song from another era. A weird mix between a ballad and someone trying to welcome aliens. Do they think we are aliens? I push my ear plugs deeper in.
Here I go again on my own
Goin' down the only road I've ever known
Like a drifter I was born to walk alone
An' I've made up my mind, I ain't wasting no more time
Shit. I can't resist any longer. I get up and begin the lubricating process. "Esther, it's time to get up." I know Esther isn't a morning person but today is a big day. We were heading into the mountains for the first time. There was 2200m of climbing which was almost double the amount of elevation that we'd done in the first two days combined. "How are you feeling?" she groans. "I'm very stiff" I respond. There is a long pause and Esther doesn't seem to respond. Fearing that she may be overthinking things again, I depart the tent. After my morning routine is finished, I head over to our morning brief. Kerryn tells us that the next stage is very remote. She mentioned that there were helicopters on stand by for emergencies but how they would find it very difficult to get people out in non-emergencies. "We can't physically drive you out. We will need to walk you out. So once you start, you really are committed!" Although today was 25km and much shorter than our day 1 and 2 distances, the word going round was that the Motatapu track was very challenging. Another participant asks "Do you have an idea how long this is expected to take us?" Up steps Glenn Marvin again "Shit gets real! If you are fast, then you will finish fast. If you are slow… then it could be a long, long day. Especially those of you who are still feeling the effects of the previous two days". I start again with the 'middle of the pack' runners at 8am. Although I believe I'm taking it easy, once again I seem to work my way to the front of the group. When I pass the lead group of girls (Anna, Anna, Dee) and Darren, I'm unsure whether this is a good idea. Today was quite remote so running with others potentially offered safety and companionship. So I eased my pace and joined their group. Although they were initially uneasy with me leading and setting the pace, after a while they welcomed me into their pack. Another runner, Sam, joined our group which made it all the more interesting as he carried a sports camera on stick that doubled as a drone that flew ahead of us. His conversations regularly ended with "Stop recording" whilst he recorded parts of our journey. The first part of this stage was pure trail runners' bliss and the most favourite part of my Southern Lakes Ultra. It was technical remote single trail next to a river surrounded by beautiful beech forest. Ultra runner's heaven! However, the tranquillity was abruptly interrupted by a scene reminiscent of Rambo. Heading in the opposite direction was my tent mate Roland, looking like John Rambo himself. There was blood pouring out of a laceration on his cheek and he was unsteady on his feet. He must've fallen quite badly. Although his facial bleeding and blood-stained clothes were the most obvious visually, it was his shattered confidence that eclipsed any physical injury. Though he managed to survive the punches during stage two, today he'd been KO'd. After taking some time to assess his safety to continue back to the start line, we parted in opposite directions. I was a bit shaken myself. Roland was a very accomplished runner who had won his age group in Kepler multiple times. He had also planned to do the Marathon des Sables in April. Would his mental wounds heal in time for this? That was the last time I saw Roland again. He went to hospital that day and didn't feature again. After what happened to Roland, I was determined to finish today in good shape in preparation for the longest day tomorrow. I adopted my 'all day pace' and Sam, Anna, De, and I stuck together for the rest of the race. There were some spectacular views on top of the highest point at Jack Halls Saddle and we remained shoulder to shoulder with mountains throughout. At one point Dee called me back as I'd gone 'off track' which was a bit of a light bulb moment for me. I'd stayed on a well-formed track but 90 degrees to this was another track with a sole red and white marker ten metres along it. Somehow the organisers had managed to mark this course without the use of any arrows. I realised I couldn't just stay on well-formed tracks but rather I needed to look up more often and be vigilant at any track junction. After some more hefty climbs and some rather painful jarring descents, we crossed the finish line holding hands more than 8 hours after starting. Stage 3 was the best day so far. I had a dip in the crisp cold river next to our camp and then preceded to have an early dinner in preparation for the longest day tomorrow. I knew I was in a good place. My appetite was good which meant my GI (gastrointestinal) system wasn't too stressed after today's running. As the sun set below the mountains, it became cold quite quickly. With the light fading, I prepared for an early sleep. Lying in my sleeping bag, I could still hear people finishing in the dark. My god I thought. Although today was only 25km, some people appeared to be doing their longest day before the official stage 'longest day'.
Stage 4 – Thoughts of DNF and deep trouble during the longest day (Distance 69km, total ascent 3400m, total descent 3600m)
It's amazing how things can change so quickly in ultra running. Last night I felt amazing. This morning, I felt horrible. I slept poorly again (partly due to the gradient of the ground and also due to ongoing discomfort with my air mattress). I didn't feel right at all. I felt nauseous and had a headache. It felt like I was in the early stages of sickness. Any other day, I wouldn't run. But what was I to do? It was day 4 and I'd already clocked up about 130km. If I pull out now, then all my prior efforts would be unrecognised. After 20 years of running, I'd never had a DNF and I was quite proud of this. I may not be the fastest. But I was a finisher. Being a finisher in running translated to being a finisher in life. I prided in getting things done. Walking the talk when others just talked the talk. I knew the day would come when I would DNF but should it be today? I was in internal unrest and I grappled with these thoughts. Medically I knew a study (Gordon et al, BJSM 2017) that showed participants with systemic illness (e.g. fever, malaise, fatigue, muscle aches, productive cough, heart rate > 10 bpm above normal, GI symptoms) were 5 times more likely to DNF. If you developed a systemic illness within 24 hours of a race, you fared even worse and were 7 times more likely to DNF. Concerns also lay in the increased risk of heat illness, myocarditis, and post viral fatigue whilst exercising with a viral illness. I knew I didn't feel good. But I was unsure whether this was just 'normal bodily stress' after 130km or whether I had an acute systemic illness. Had it been any other day at home, I wouldn't run. If I was advising a patient with similar symptoms, I'd advise them not to run. The doctor in me was saying don't run but the runner in me wasn't so sure. I sat in my tent and thought this through. Could I have done better with my hand hygiene? Was the water from that small stream ok? Should I have rehearsed with my air mattress at home? It's possible that my poor sleep may have created a window of immunosuppression for a virus to take advantage. I think further. If I pull out now, it's going to take a while to get me out of here. I'll then have to find a hotel in Queenstown for an extra 3 days. I'm going to have to cough out exorbitant unplanned accommodation costs. I'll then lie in bed (albeit a warm and comfortable one) feeling sorry for myself. I'll have to catch up with Andrew and Esther after the race and not be able to look them in the eye. If I've the guts to attend the post event dinner, I'll have to replay my sob story all over again whilst all the other finishers bask in the enjoyment of their success and resilience. This was all too much for me. I couldn't keep playing Russian roulette with my mind. It was no longer the fear of a DNF that scared me but rather the fear of giving up. If I was to DNF, then so be it. But I would at least get to the start line and try. I realised I had to start early. By starting earlier, it would reduce the amount of time in the sun and hopefully reduce the amount of night running (if I got that far). I got ready as quick as I could. I couldn't stomach any breakfast. That would be something I would have to deal with whilst running. I headed out to find Kerryn and she was remarkably bubbly for a woman who probably hadn't slept in three days. "Kerryn, I don't feel so well. I woke up this morning feeling nauseous and with a headache. Can I please start at 7am with the slowest group?" "Yeah, absolutely!" she responds ecstatically. "Remember you've got two days to finish." I was momentarily stunned. My god she is a hard woman. I don't even know if I can survive an hour yet alone two days. "Thank you" I eventually responded. And so I set off with the 'back of the pack' runners. My plan was to move at a low enough intensity to trick my mind until hopefully my cortisol (stress hormone) kicked in. I'd managed to get through some tough working weeks on cortisol alone so I was hoping it would work again today. If I could just get to the rest day, then I'd have a good chance of finishing this thing. I started right at the back of the group with a very slow walk. I remember passing another participant called Kristina within five minutes of starting and we exchanged greetings. "My heart rate is already going through the roof" she tells me. Really? We're only walking. I quickly realised that there were others like me who were also already struggling. We all trudged slowly up this massive hill (possibly a mountain). It felt like a death march. It was as if we were surrounded by hyenas who served the God of DNFs. Circling us. Prowling. Looking to pick off the weak and vulnerable in the group. And I had willingly chosen to join this group.
Although I started 1hr and 30 minutes ahead of the lead group, it wasn't long before I was mowed down. And then it wasn't long before members of the 'middle of the pack' started to pass me too. When Sam passed me, I realised how slow I was going. If yesterday was my all-day pace, then today was my survival mode pace. Though Sam urged me to keep up with him, I had no chance of holding his pace. I was light headed and unsteady on my feet. My sweat felt like sick sweat. I was finding it really hard to concentrate which was all the more challenging as the high river route we were following was perfect ankle busting terrain. As it became more technical, the more I slowed. If I were to do an ankle now, I didn't think I'd have the resolve to continue. When I arrived at the first aid station at Mace Town (10.5km), I'd managed to keep fluids down but I still hadn't eaten anything. I knew this wasn't sustainable. So when I saw cheese and crackers at the aid station, I happily tried them. I'd been craving savoury instead of sweet food for a while. After the aid station, the track became less technical and was replaced with a 4WD road with multiple river crossings. I spent a bit of time running with Vivian (or rather she carried me). I apologised as I didn't have the mental energy to hold a conversation. I asked if I could just tuck in behind her and she kindly agreed. She ran the flats and walked the steep hills and I just clung onto her. We ran in silence for a considerable period. At some point (and I'm not even sure if Viv knew), I burst into tears. I was overwhelmed with emotion. I reflected on my 'why I run'. I've always run because I've enjoyed running. However, I was not enjoying this at all. I felt like a husk of a man. I was completely detached from the world and it was like an out of body experience. It was like I was floating but floating was really hard work. I've always accepted the necessity to push through discomfort in the latter stages of a race. But having to do this right from the start of a 69km long day with 3400m of climbing just broke me and the tears flowed freely. Eventually I had to let Viv go as I could no longer hold on. This was my cross and I had to carry it. It's all a blur of road and faces from here. The surprise Fruju tropical popsicle and Red Bull double at the Arrowtown aid station was a saviour. The sun not breaking through the clouds until after midday also worked in my favour. I maintained a slow but steady pace throughout. Around 5pm and about half way up Advance Peak (the highest peak for SLU), I started to feel remotely human again. It may have been the Fruju and Red Bull kicking in. It may have been my cortisol finally surging. It was as if my body had said "This idiot isn't going to stop so let's just get him through". For the first time, my mind fog started to lift and moving didn't demand as much concentration. I appreciated getting to the top of Advance Peak more than I appreciated my surroundings. By now, I just wanted to get off the top and finish before dark and end this. The descent down Advance Peak was quadriceps torture. The tussock was also slippery so it was quite challenging to hold your feet. As I passed a fellow competitor coming down (Pretty Anna), she turned around and looked at me with an anguished look and said one word "Pain!" I managed to get down the mountain by night fall but halfway along Skipper's Rd, the darkness set in so I pulled out my head torch. My pace slowed as running became tricky again. Appreciating depth and the shape of the rocks on the 4WD road became challenging so I went into ankle preservation mode again. The road seemed to go on forever. Near the end, other competitors' head lamps seemed to be twisting and turning and shining in the opposite direction. At one point, it felt like I was going further away from everyone else and I started to become paranoid of getting lost again. Navigating in the dark demands mental energy and I'd already tapped into most of my reserves. I became consumed and obsessed with looking for red and white markers in the dark. They became my life blood and missing them would be at my peril. When I see car headlights followed by two familiar faces (Glenn Marvin and Cynthia), I feel relieved. "How far to go?" I desperately ask. "Shit gets real" Glenn exclaims. "You're nearly there. It's literally just around the corner. Just stick to the right of the fence." When I cross the finish line, it's just before 10.30pm. I haven't finished. I've survived. Making my way back to my tent, I don't feel like I'm human. It gets cold very quickly. Esther had kindly blown up my air mattress and another friend, Fiona Eagles, offers to prepare my noodles for dinner. It's amazing how small gestures make a massive difference when you're broken. I eat my noodles in my sleeping bag. Looking to repay the kindness forward, I try stir Esther (who is now asleep) to help with setting up our other tent mates' bedding. "I'm sorry. I can't. I think I'll barf" she responds. I pull my sorry arse out of my sleeping bag and blow up Craig, Claire, and Sally's air mattress and prepare their sleeping bags. I'm too tired to do anything else. I slide back into my sleeping bag but my legs feel slimy and sticky. I wipe them down with wet wipes (to prevent them from sticking together during the night) and instantly fall asleep. Finishing time 14hr 12 min.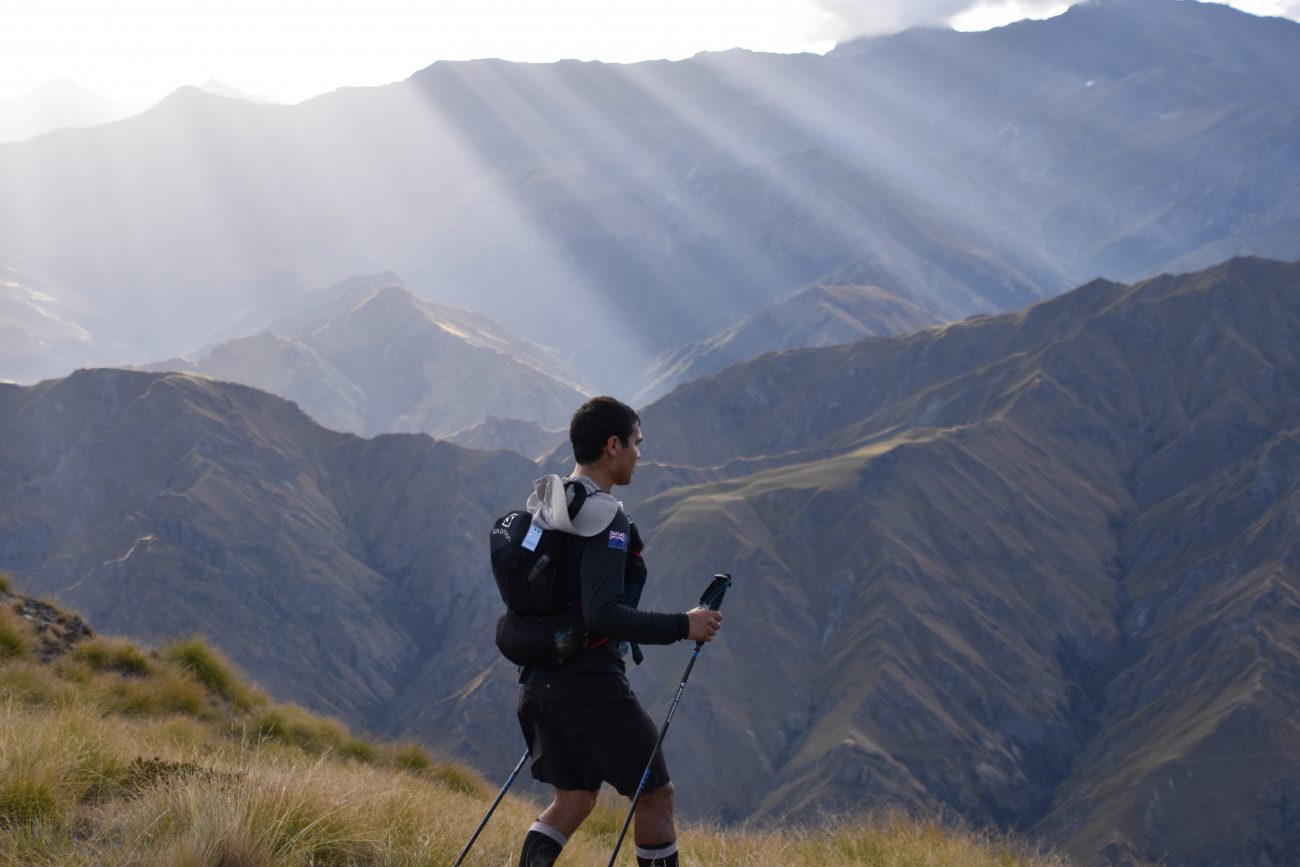 Rest day
It's such a nice feeling waking up knowing that you don't have to run after about 200km of running. For most of the day I rested, attempted to eat, addressed some pressing hygiene issues, and slept some more. We were treated to some Fruju popsicles in the afternoon and we rejoiced like children during Christmas. Most of us had managed to finish before dawn this morning. However, a handful of runners had chosen to sleep at one of the aid stations overnight and start again first thing in the morning. Just after 6pm, we receive a call that the last competitor for the long day is approaching the finish line. I'm completely blown away. To think I haven't been running since before midnight and this person is about to finish more than 18 hours later. I've had all day to recover. I've had breakfast, lunch, and dinner. And this person is about to finish now. As they come into view, I recognise it's Kristina whom I spoke to at the beginning of the longest day. She crosses the line and embraces Kerryn. She begins to sob. It is so silent. It's as if I've got some trail dust in my eyes because they start to water too. I hardly know Kristina. I only spoke to her briefly at the start. But in that moment, I felt so connected to her. I felt all her struggle because we shared that struggle. The emotion was overwhelming. All up, 5 people DNF the longest day. We later hear that Sally was pulled with hypothermia just prior to Advance Peak so our tent is whittled down to 4 members. Usually in stage races, if you can get to the rest day, then you're doing pretty well. I was feeling a little bit better and had given myself a chance of finishing. Hopefully another sleep would see me through.
Stage 5 – The squirts and running in anger (Distance 47km, total ascent 2800m, total descent 2200m, finishing time 8 hrs 1 min)
Shortly after midnight, the diagnosis was confirmed when the diarrhoea kicked in. From then on, I had hourly trips to the loo. Had I got some E Coli or giardia from that small stream I drank from during stage two? Or was this viral gastroenteritis? Either way, Glenn Marvin was right. It got real. Due to stomach cramps, I couldn't have any breakfast again. I was hoping to re-join my 'middle of the pack' starting group but I realised this would be unwise. I wasn't out of the woods yet and today was forecast to be hot. So I asked to join the 'back of the pack' early starters again for fear of gastroenteritis and heat illness during our 47km day. Despite everything that happened last night, I managed to find myself in the lead group again. Carlos, relieved of all that extra food weight he had been carrying all week (unsupported category), took off like a wild man. Fiona, Will, and I were in hot pursuit. I was ahead of Will and gaining on Fiona and Carlos when suddenly a black Ute drove up next to me with Will causally sprawled out in the back tray. "What are you up to Will?" "We missed the turn off" he replied. "What? How is that possible? We weren't meant to turn off until after the first aid station. And we haven't come across the aid station yet". By now the driver of the Ute winds down his window. "I'm sorry but you've missed your turn off" he says solemnly. "The staff hadn't set up the aid station in time so you've gone past it. It's at least a couple of kilometres back at the bridge." I bite my bottom lip. "Ok, there are two others in front of me. A female called Fiona and another bloke who's quite far ahead called Carlos. I'll start heading back." I turn around and start running back. Well that was annoying. The last few kilometres had been all up hill and in the heat of the sun. That was the last thing I needed. It didn't seem that much longer until the same black Ute returned behind me. Will was still in the back tray of the Ute but this time Carlos and Fiona were seated at the front. "Just jump on and grab onto the side" Will says. So here I am holding on to the side of the Ute like some cowboy as we all drive back to the first aid station which has magically transpired in front of us. Kerryn is there and she apologies. "That's fine" I respond. "We will credit your time" she says. So its déjà vu all over again as I start reeling in all these people who I'd passed earlier. Initially, I saw the funny side of things. How ironic. If only I had repeated my folly during stage one, then I would've been fine. This time, I stay on the road as directed and I miss the turn off. I couldn't help but laugh. But just like that, my laughter faded and I became angry. Very angry. F*** getting lost! F*** everyone sharing their own getting lost experiences with me like I really f***ing cared! F*** not being able to fart for fear of the consequence! F*** gastroenteritis! F*** positive people telling me to think positive thoughts! I just had a 69km out of body experience yesterday. I've been squirting jets since midnight. And now I have to run 47km (plus some extra) in this stinking heat. What positivity could anyone garner from my current situation other than I wasn't dead? When another runner, Kyron passed me, that was my trigger. Kyron was running a good race. He was nowhere near the front during stages 1 and 2. But then he picked up his speed from stage 3 onwards such that he had a very strong longest day and finished in the top five. It's better to be speeding up in the second half of a stage race rather than slowing down and he was following the play book perfectly. I remembered him taunting Sam to chase him during the longest day ("C'mon Sam I am"). I knew if I could stick with him, then I'd finish well. Game on I thought. From that point, I decided to channel my anger in a positive way and ran quite strong. What followed was an intriguing game of cat and mouse. I knew Kyron didn't enjoy me tailing him as whenever I got close enough, he would sprint off again. But I hung tight. From a distance I observed his strengths and weaknesses. He was very strong on the downhill but couldn't sustain an uphill for as long as I could. He was slightly bigger than me so I knew that would be a problem in this increasing heat. I continued to tail him and ran and drank with reckless abandon. I drank from mostly every waterway I passed. I already had gastro so what did I have to lose? I dipped my head under a waterfall and wet my hat at every water crossing to stay cool. I continued to gain on him. And each time, he continued to surge away. One particular surge was so impressive that I doubted it was sustainable. I've seen this before. Has he just had a gel? Eventually, I reeled him in again. Once again, just stopping behind him so he knew I was there. After a while, I started to feel sorry for him. This is mean. A cat shouldn't play with its food. So I waited until the terrain suited my strengths and when a slow steady uphill presented itself, I made a strong pass. Swift and brutal. By the time I got to the second aid station at the 30km mark, I was feeling pretty good. Probably the strongest I'd felt this whole SLU. But the hills kept coming. Big Hill in particular (aptly named) was a slow and steady climb that got a bit swampy near the top. Once we crossed over the saddle, it remained exposed until we reached some shade in a beautiful native forested area. It was soothing and my anger eased and I started to feel calm energy again. To Kyron's credit, he passed me again on the downhill but this time I didn't purposely chase him down. Enough respect to the guy. If he could maintain that pace then good on him. It was hot and I didn't want to do anything stupid. I was also conscious that I had to save some fuel in the tank for the final 1.5km scramble up Coronet Peak. Kerryn had told us earlier that this was the Southern Lakes Ultra 'what the f*** moment'. When I got to aid station 3 at 39km, my good friend Kyron was sitting at the aid station. I chose not to sit. I just wanted to top up my fluids and keep pushing through. "How are you feeling?" one of the volunteers asked. "I'm feeling good", I responded. "My mind is clear. My stomach is behaving. And my legs are feeling good. The holy trinity of ultra running. If those three things are behaving, then you're doing ok". I thanked them all and pushed on. As soon as I headed to leave, Kyron instantly shot up from his seat and started following me. Kyron! I don't want to race you! I muttered under my breath. The remaining 8km to the end was mostly uphill so I slowly pulled away from Kyron. When I arrived at the final 1.5km scramble up Coronet Peak, it really was an 'oh my God moment'! It was a very slow procession! At some points, the ground was at eye level and you had to crawl because it was so steep. I was getting emotional again. The physical, mental, and emotional toll of the last two days was starting to bubble over. Combined with the realisation that I was actually going to make it, I begin to cry again. By the time I pass Glenn Marvin who is taking photos halfway up the top, I don't know whether I'm smiling or crying. It's just raw messiness. Real emotion. When I cross the finish line, the view from Coronet ski field is amazing! It's a content exhaustion. I know I will pay for what I've just put my body through. I could feel the pressure lift and with that, a drop in cortisol usually follows. Hopefully the crash won't be too brutal. I just snack on chips for dinner as my stomach still wasn't right and I was over dehydrated food. I have an early night and remarkably one of my best sleeps all week. The best sleeping pill is peace of mind. After a few days of turmoil, I had found peace again. Combined with sheer exhaustion, I was out like a light.
Stage 6 – The swift descent home and the post event dinner (Distance 10km, total ascent 430m, total descent 1260m, finishing time 1hr 2 min)
That weird song is playing again but I think I've come to terms with it. Some are even starting to sing the chorus now. I guess every wake-up song is a bit of a love hate relationship. A couple of hours later, I'm running down Coronet Peak and I can't believe how some runners are thundering past me. Only moments ago I saw one of my competitors (or should I call them friends now?) hobble sideways down steps. Now she's just smashing it and flying past me. It's amazing how much more you can give even when you think you're done. Despite having run about 250km over the last 6 days, I'm sure anyone watching us wouldn't have known it. It reminded me of a quote from Sun Tzu, military strategist, – "Do not interfere with an army that is returning home." In the same vein, when a runner's heart is determined on finishing, they are too dangerous a proposition to stop. When we cross the finish line, there is LOTS of hugging. To think a week ago we were complete strangers. And now everyone was just hugging everyone. Although most had known this yesterday, crossing the finish line today just officially confirmed it. We were finishers of the inaugural 2022 Southern Lakes Ultra! Wow, 264km with 10 000m elevation gain! That takes some doing. Esther, Fiona, Dr Stanley and I rejoice with a celebratory drink and some hot chips. Oh my god the chips taste so good! As part of finishing we're invited to take part in a Shotover Jet Boat ride along the Shotover River and surrounding canyons. However, I was knackered. After running on cortisol since our longest day, I could feel myself starting to shut down and I was getting quite cold. As much as I wanted to, I didn't think my body would handle anymore hormonal spikes. Dr Stanley and I catch a taxi back to Queenstown to get our bags and then walk to our new hotel. It feels a bit odd walking through the town again. You can tell people are looking at us battle weary stage runners trudging through town. After a week with likeminded athletes, I feel very disconnected to these new people around me. Some will never understand why we do this. Probably as much as I'll never understand why they don't do it themselves. I think if it makes you happy, then so be it. You don't need to understand everything in life. Whatever makes people happy, then let it be. We stop at Ferg Bakery for our first real meal in a week. The steak and cheese pie is mouth-watering. The cream donut is light and melts in your mouth. When we arrive in our hotel, the surreal experience continues. The toilet, the bed, the shower, everything is real. It's like being reborn again. Like someone has just pressed the reset button on life. Everything you took for granted, you now see in a new light. I love how running keeps me grounded. Later in the afternoon, we hop on board a greater than 100-year-old steamship (TSS Earnslaw) to Walter Peak where our post event dinner and awards ceremony is held. The food tastes amazing and out of this world. There are some incredible appetites on show and everyone is smiling. As much as I want to eat more, my stomach hasn't recovered yet so I'm unable to fully indulge. I can't help but laugh at my tent mate Craig. His dessert plate is topped up with 5 different desserts. "Craig, wasn't it just a few days ago you were talking up the wonders of the simple Fruju?" We both laugh. For the last week we lived a simple existence. It was eat, run, sleep, repeat x 6. Regardless of weather or terrain we ran from A to B. Life was simple. They say the simple life is the fullest. I tend to agree. Back in the real world, I'm surrounded by everything I could possibly want. But by having everything am I any more fulfilled? Probably not. During the awards ceremony, it's revealed that Dr Stanley has come third male overall. It's difficult to know whether he is happy or sad. That man hardly shows any emotion at the best of times. Following the awards ceremony, we catch the steamship back to Queenstown. Congregating on the wharf, this is the final opportunity for goodbyes. I'm ready to go home. I miss my family. But for some, you can sense they are reluctant to let go. Shared adversity and struggle creates very strong bonds. For some, these bonds will be life lasting. They want this experience to continue and I can understand. The wharf is mixed with varying emotions. Within one week, I had experienced the whole spectrum of human emotions. I had experienced more emotions this week than I normally would in a whole year of my life. I think this is part of the attraction of stage racing and why people keep coming back for more. The next morning when I wake up, I'm in love with my hotel bed and pillows. I've had an amazing sleep. I leave the room quietly so as not to rouse Dr Stanley and head downstairs to check out the breakfast menu. When I return, Dr Stanley's true emotions are revealed. He is tragically singing shower karaoke to Roxette's 'Fading Like a Flower'. I quietly close the door and let him be. Thanks to Kerryn and Jason Bell and all the other volunteers that made SLU happen! Running is medicine.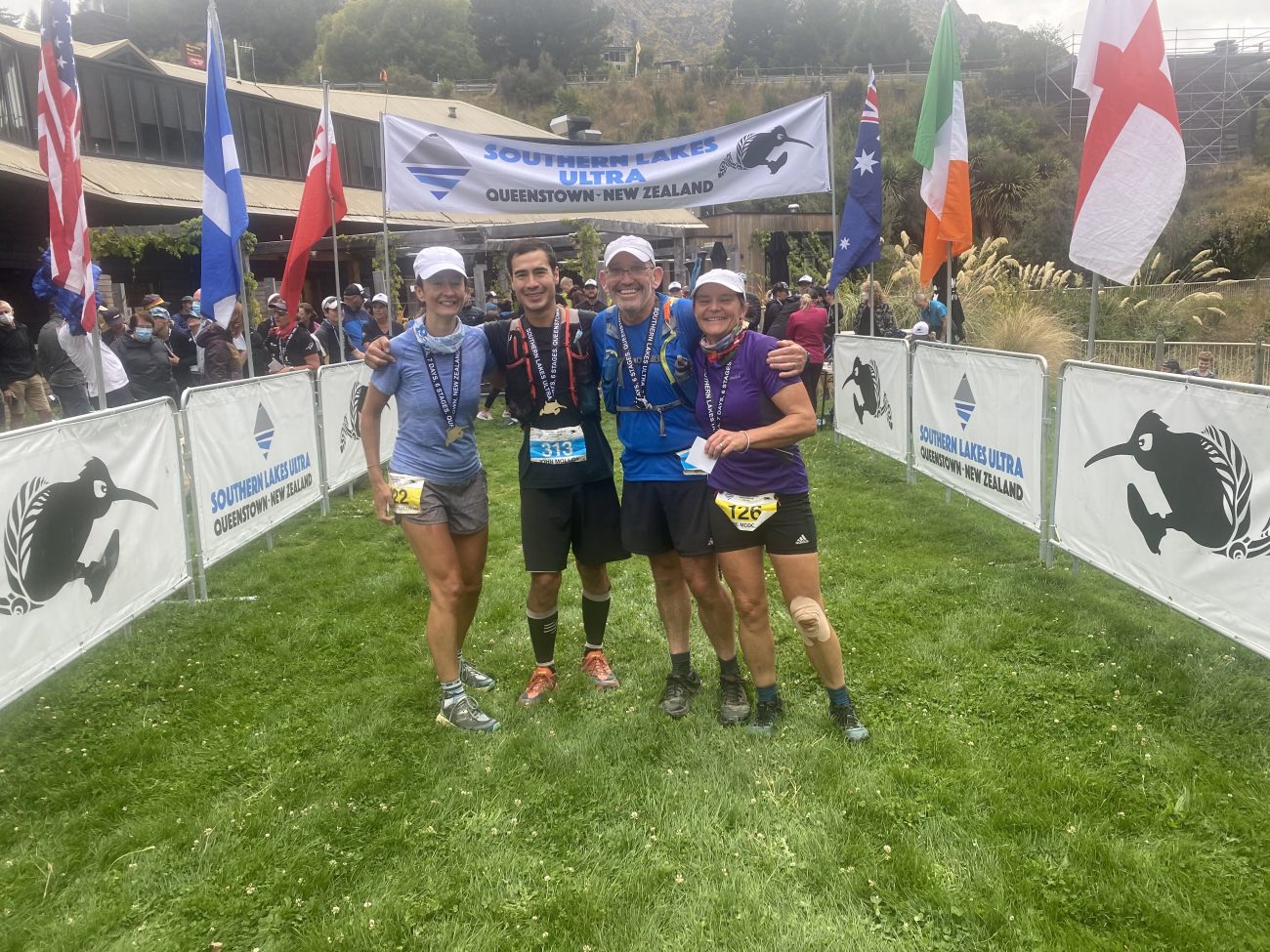 When a runner's heart is determined on finishing, they are too dangerous a proposition to stop.