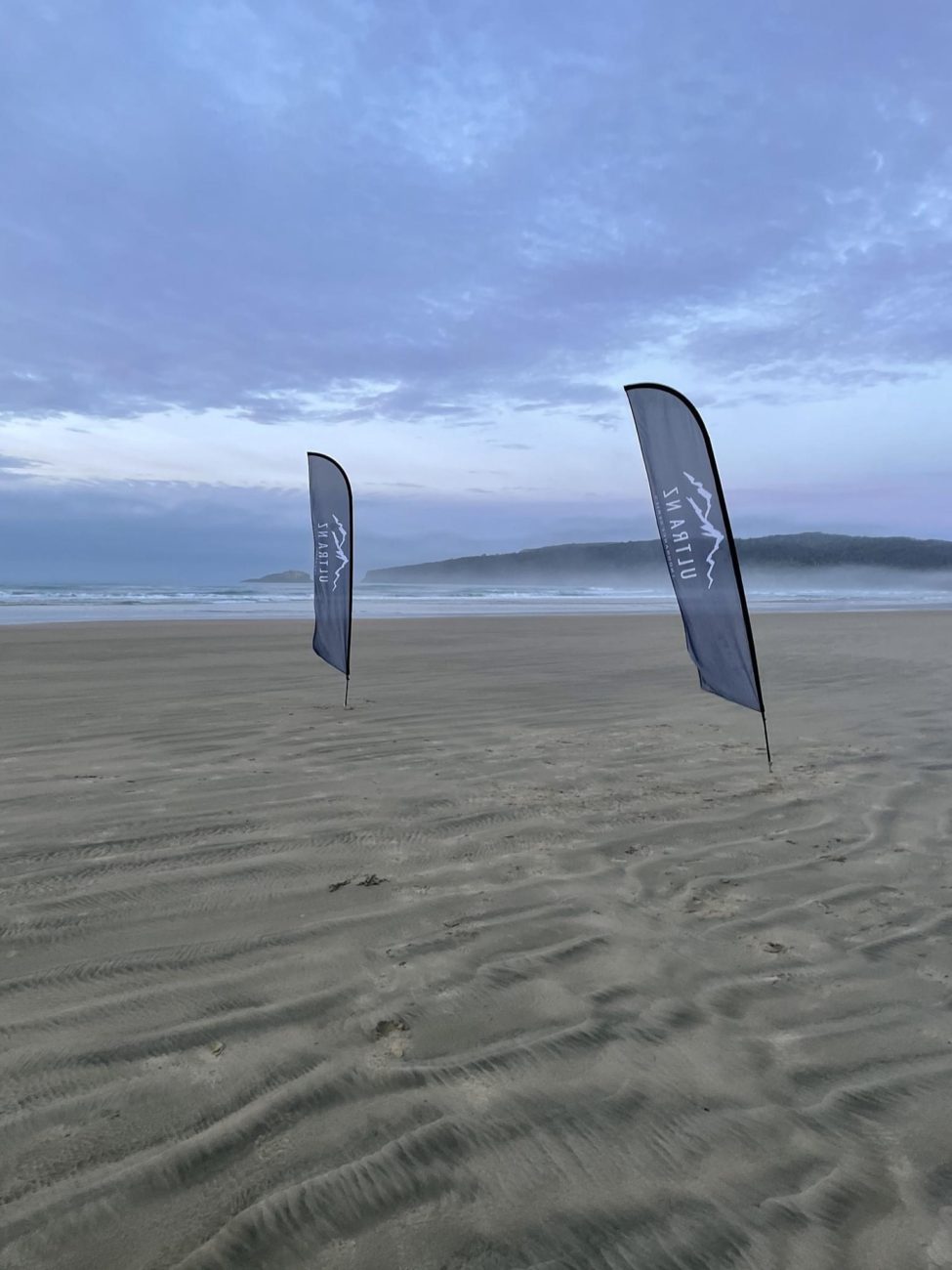 The Coastal Ultra 71km 2021
Christchurch Marathon 2021: Marathon # 89
Date:
April 10, 2021
I was initially attracted to the Coastal Ultra as it was in the Catlins which is an area in NZ I've never been to before. It was a new event and 99% of the course was on private land so the opportunity to explore rarely ventured territory appealed. However, the Coastal Ultra was also on the same weekend as another favourite event of mine, the Christchurch Marathon. So, after some military like planning, I worked out it was possible to do both events (the Coastal Ultra on Saturday and the Christchurch Marathon on Sunday). Possible but not easy. I flew my one way ticket from Christchurch to Dunedin on the Friday, picked up my Transfercar from the airport, and then drove 2 hours to the Catlins. We stayed at an Airbnb near Owaka with my friend Dr Isobella Henzell and her family. She had also organised a large group of doctors from Dunedin to join us for the event (choice of 15.5km, 27km, and 71km distances). In order to fully explore the region and get my money's worth, I entered the 71km. This meant a very early 4am start in order to catch a 6am bus from Curio Bay to the start line near Cathedral Caves. We arrived at probably one of the best and more memorable start lines I've ever experienced. The course was true to its name and the start line was on secluded untouched beach. The sun had just risen and we made fresh foot prints on the pristine hard packed sand. The smell of the fresh sea air and the remoteness was intoxicating. In the absence of any crowds or supporters, just fewer than 100 participants set off after 7am to a countdown from 10. There was a gentle sea breeze and the only roar was from the sea. This is why we run.
The cool air and firmly packed sand ensured a relatively brisk starting pace until we hit our first major water crossing within ten minutes. This appeared to be more significant than usual as a couple of marshals were positioned at the designated water entry and exits points. Over the years, the lengths I've seen some runners go to maintain dry feet is extraordinary. And sure enough, some stop to take off their shoes and socks whilst another pulls out a large rubbish bag to walk in. My spot assessment tells me that wet feet are unavoidable so I just cross. The water is chilling and halfway across it reaches thigh height. I pause and carefully watch those in front of me for the preferred route (wet feet I can handle but any water crossing that encroaches on the genitals is another matter in itself). I successfully cross without any squealing only to be greeted by a flash back to the film, The Beverly Hillbillies. Just off the shore stands an isolated rickety old house with a couple of quad bikes parked outside. Old rope hangs from every corner to dry a variety of khaki coloured clothing. A couple of the house occupants are standing outside on the front porch drinking an undetermined brew as they give a subtle chin raise greeting. I can feel a clump of sand in my shoe that needs removing but instinct tells me to keep running so I give a nervous wave and follow the track around the coastline. As time passes, the field starts to spread out and any purposeful track disappears. I'm left to myself to explore this raw and rugged coastline. The ocean spreads infinitely into the horizon but in other areas it is close enough to carve out the coastline next to you. I move along a few more sequestered bays running next to the tide line and through a region of dense native bush with ankle deep mud. For long periods of time my only company is the ocean and the boundless farmland. I am lost to the outside world. I am lost in my thoughts.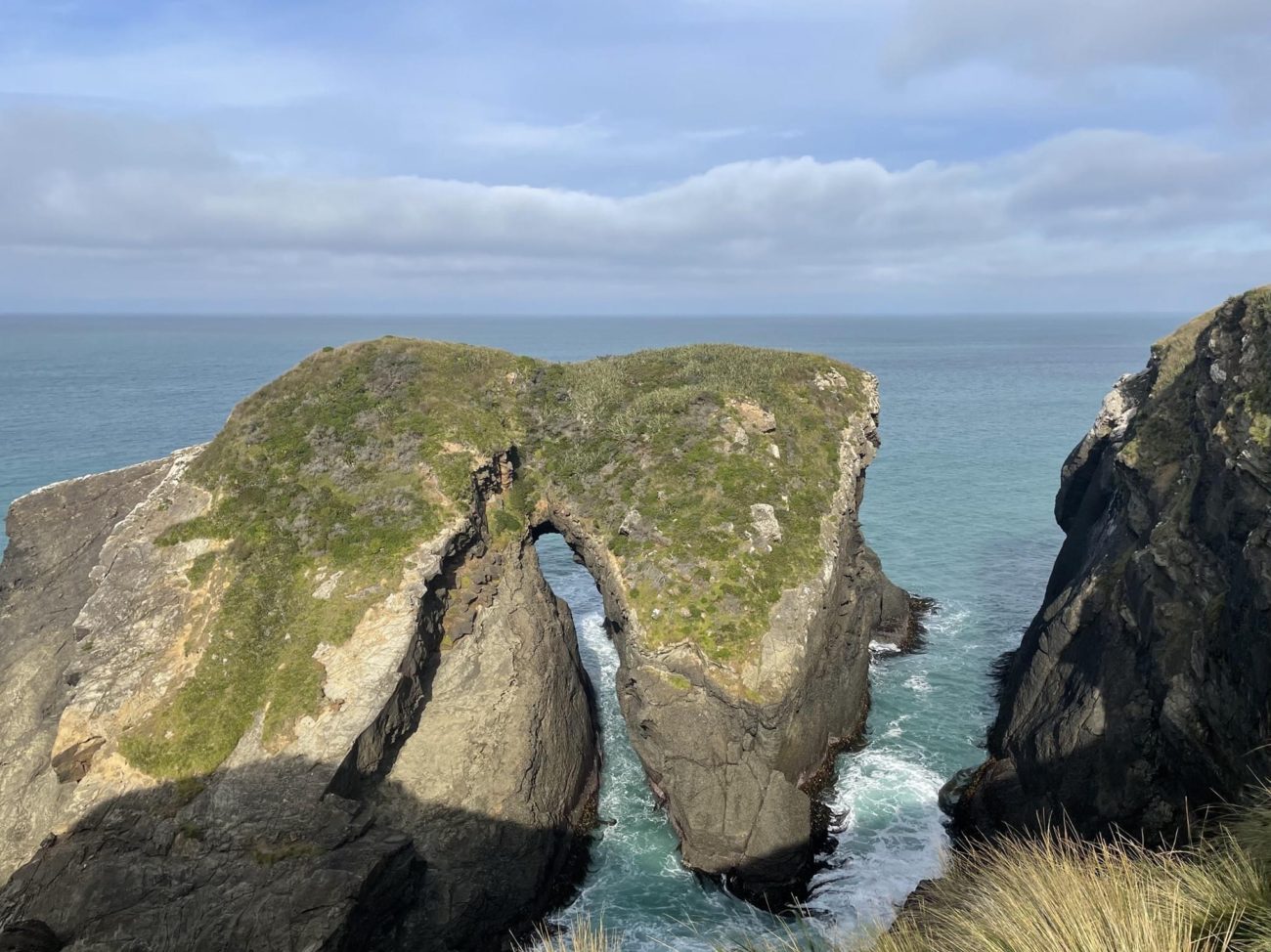 For all the joy and endorphins one receives from their running environment, eventually the toil of the distance sets in. The unventured private land means that there are no formed tracks other than what has been tread by the runners ahead. Progress is always limited by the terrain and this farmland is rough and hard going. The sustained concentration is intense in order to hold your feet in what is very much ankle busting country. I had managed to complete the first 25 km in 3 hours and 30 mins so the quick maths told me this was a 10 hour affair. I had hoped to finish around prize giving at 3pm (8 hours) but this was now a pipe dream. By the time I had reached the 40km mark, I was already a spent force. The weather had also turned and the rain had decided to set in. The winds picked up and the arduous hills climbs kept coming. Whatever fragment of joy that remained died a cruel swift death. The thought of having to drive to Christchurch afterwards to run a marathon also weighed heavy on my mind. For the remaining 30km of the course, I was fending off survival mode and knowingly eating into my Christchurch Marathon running legs. A volunteer at an aid station asked me if there was anything I needed and I half jokingly responded, "Comfort". It all became a haze of farmland and hill climbing (total elevation of 3000 metres with a lot of climbing at the end). A random alpaca sighting broke the monotony but by the 60km mark, I was pretty sure that I had seen enough of the Catlins. The final stretch along the beach managed to lift my spirits somewhat. By then the rain had cleared but the sun was beginning to set. I crossed the finish line in 10 hours and 44 mins just before 6pm. More relieved than elated. I know I'm behind schedule so I move swiftly to my car. I need to get to Christchurch pronto.
Truth be told the Coastal Ultra chewed me up and spat me out onto the Christchurch Marathon start line. I had managed to get to bed by 2am after the 500km drive from the Catlins. I was awoken just after 6am by my children and then had to move fast to make the 7.30am marathon start. I knew I wasn't adequately hydrated or nourished from yesterday (none of this is ideal of course before a marathon). My wife dropped me off as close as she could outside the cordoned area. Unfortunately, the morning shower wasn't miraculous and I was still very, very stiff. I attempted a gentle jog to the start line to help prime my legs and address this conundrum (whilst eating my toast for breakfast). I managed to get to the start with a couple of minutes to spare. Although I was feeling a bit pressured, the atmosphere was electric. The music was pumping and so was the race vibe. It was an amazing contrast to the start line I had experienced only 24 hours ago! Before long, I'm off to the starter's gun amongst a sea of runners. My daughters Millie and Poppi had entered the Kids' 1k Mara'Fun and were scheduled to start at 11.30am. I was therefore hoping for a 4 hour finish so I could join them. I didn't know if this was possible after the Coastal Ultra but I was determined to give it a try. I'd at least made the start line!
Although I flirted with a 4 hour marathon pace for the first hour, it wasn't long before the wheels started to fall off. I knew this wasn't going to be my day when I was passed by Aquaman with his life size trident. By the 15km mark, I was only 5 mins off a 4 hour pace. But I was beginning to slow down which is never a good sign. Then it all happened quite quickly. The heat. The feeling of being flustered. The questioning of the sanity of this all. The internal implosion. I had hit a wall. My tank was empty and I started to walk. 'The wall' is typically reserved from the 30km mark in a marathon but mine occurred much earlier around the 18km mark. By this stage, I was really struggling to hold it together. I was stopping at aid stations rather than passing through them. Instead of sipping from a cup, I was guzzling multiple cups wildly. A well intentioned half marathon runner sees my struggle and tells me "Keep going, not long to go now". I make an efforted smile for thanks just as he notices my marathon bib. "Ohhhh!" I see his confused regret in a snapshot. "My journey continues brother. You go get it." He surges onwards whilst I flail about in my struggle. "Keep moving, keep going" I whisper under my breath. Barely jogging, I spot an unopened Horley's gel that someone ahead of me had dropped on the road. Feeling pretty desperate, I stop to pick it up and tear it open. The raspberry flavour is thick and sweet. I can feel the fuel gauge slowly lift off empty just enough to run out of this wall. They say good luck comes to those who sweat. Either that or the running gods are feeling merciful today.
As all the 10km and half marathon runners have already finished, the second half of the run is much quieter. Minus all the hustle and bustle, it's a lot easier to connect with your surroundings again. I begin to enjoy running around Hagley Park under the shade of the large acorn trees. Running along the Avon River also provides a peaceful backdrop. Without all the commotion, I can concentrate on doing what I do best. Putting one foot in front of the other. What some may find mind numbingly boring, I find totally liberating. For a period of time, I don't have to listen to anyone else's problems. I don't have to worry about my patients' problems and how their struggles are affecting their quality of life. I only have to think about my own struggle. And when you're really struggling, you can think of nothing else but the struggle! By now, I've found a slow but sustainable pace that will get me to the finish. Rather than being passed, I start passing people again. Around the 39km mark, I see a couple of guys who are clearly running together. One lets out an exasperated, "F***, I gotta walk Josh". Once when I wore a younger man's running shoes, I would've considered that the walk of shame. Fast forward 18 years and 89 marathons later, I see walking in a different light. In that particular situation, I see walking as the result of pushing one's limit. Be it a physical limit or a mental limit, a limit has been reached. If you've never pushed yourself to your limit, then how do you know that you have one? For me there is no shame in walking anymore. What matters is what you do AFTER you start walking. For you can only truly know yourself when you go beyond your limits. And you're none the wiser if you remain restrained within your comfort zone.
As I head towards the finish line, I see children much older than my own running so I know I've missed out on running with my own children. A 4 hour marathon was too big an ask today. I manage to cross the finish line in 4 hours and 29 mins. Content with the effort but a bit disappointed. However, that disappointment is short lived when I see both my girls near the finish line with beaming smiles on their faces eating ice cream. They both have their finisher's medals around their necks and seem to have enjoyed themselves. All the previous struggles of the last 24 hours seem to disappear and I'm light on my feet again. I get a photo with my girls at the finish line and this is a very proud dad moment. As much as I love running, I don't want to force my kids to be runners. However, I think as a parent, the best I can do is provide opportunities for my kids to live active lifestyles early. Physically active kids are more likely to become physically active adults. And healthy habits can last a lifetime. Running is medicine. Join me at my next blog, the Rotorua Marathon at the start of May.
You only know yourself when you go beyond your limits.
Paulo Coelho