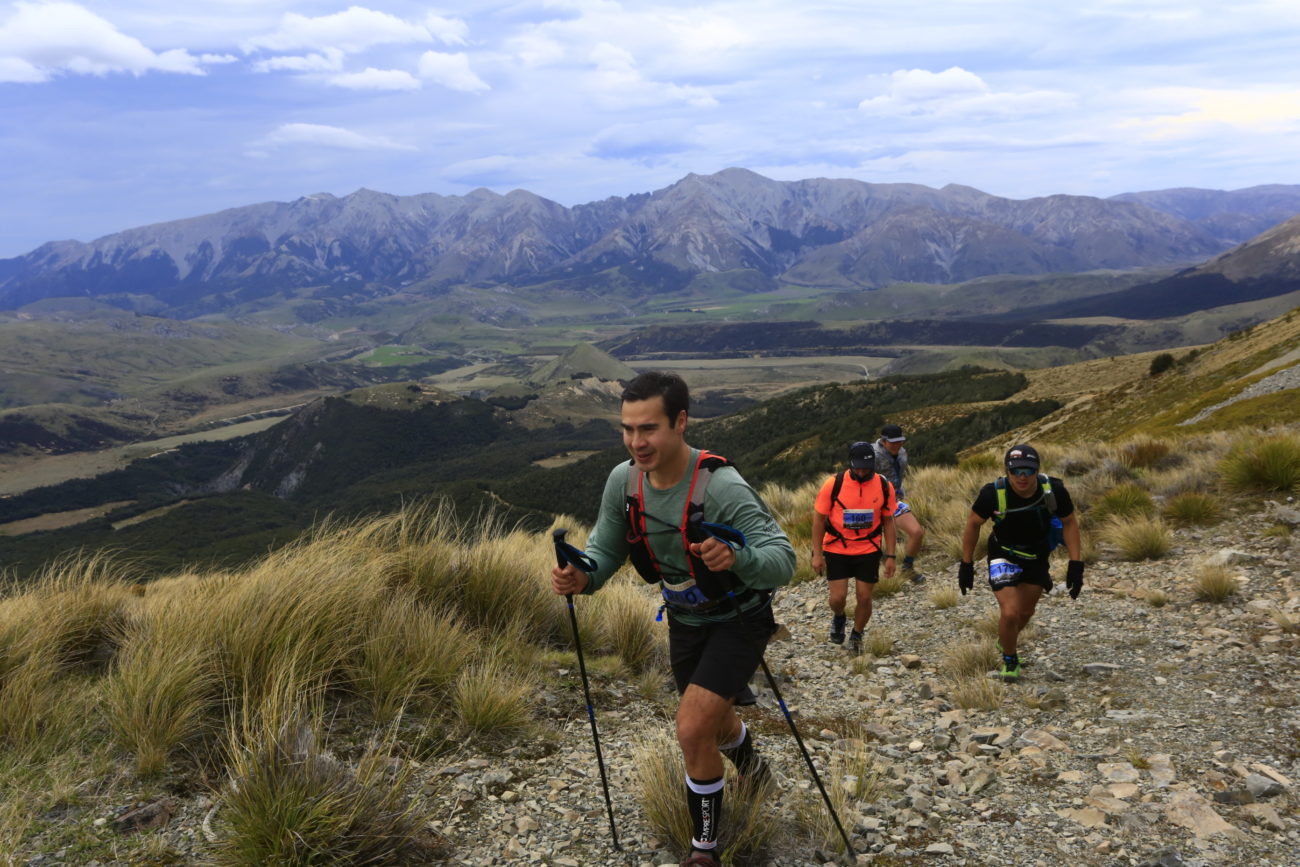 The Valley Ultra 57km 2020
Date:
November 21, 2020
This year was my second time participating in the Valley Ultra 57km Whole Hog. Dr Andrew Stanley was keen to give the 'Whole Hog' a go for the first time and Flight Lieutenant Jim Sheehan was keen to upgrade from the 'Piglet' (shorter 24km version) after sickness derailed his hopes of running the 'Whole Hog' last year. I remembered how the inaugural 2019 version consisted of lots of climbing and strong wind gusts reaching 120km/hr. But running through the beautiful beech forest and the alpine views made it all worthwhile so I duly obliged and entered the 2020 event with Andrew and Jim. We were lucky enough to secure the same rental within Castle Hill Village that Jim and I had used the year before. This was a bonus as it was only 50 metres from the start line. We all attended the pre-race briefing the evening prior. Unfortunately, the organiser's advised us that due to forecast strong winds, we would be running 'Course C' again which was the same course that was also used last year due to strong winds. This reduced the total distance from 57km to 53km and meant that we wouldn't be able to run along the ridge beyond Mt Cheeseman (which I've been told is spectacular). Jim dryly quipped at what point should 'Course C' become known as 'Course A'? I tended to agree with him as I knew that strong north westerly winds normally accompany a Canterbury spring (I guess we'll have to find out next year). After final pre-race night preparations, I set my alarm for 5am in preparation for our 6am race start. However, I was a fool to think my alarm was necessary as despite our close proximity to the start line, this didn't seem to deter Dr Stanley who could be heard rustling from 3.30am. This was followed by a constellation of noises including a hot drink being made, nervous shuffling, repeated toilet flushes, and the overzealous application of lubrication. Oh man! Time to get up and join the festivities. My wife Courtney who was doing the 'Piglet' (with a more respectable 8am start time) was still in bed so hopefully she'd be able to sleep through our racket. Preparations complete, we ambled towards the start line at 5.50am. The sun wasn't quite up yet but it was light enough that we didn't need our headtorches. The three of us lined up side by side at the start line ready to go to battle. And off to battle we went.
Running often draws parallels with a battle or war. In the early hours of dawn, the three of us headed out with other runners in orderly single file into the beech forest. The extent of the battle ground before us became clear as we went past the tree line and into open plains surround by mountains. Climbing up mountains always tests your mettle. I could sense that Dr Stanley was in a hurry to do battle today as he was bravely passing others whilst we were ascending. Reluctant to let the advancing Dr Stanley get too far ahead, I also picked up my pace. Knowing what lay ahead, I knew our pace was faster than I would've liked this early on but I pushed onward anyway. Jim on the other hand was finding the pace too hot to handle and became an early casualty and fell behind (intelligence from reconnaissance sources later reveal that Jim was last seen running at a leisurely pace chatting to women). Meanwhile Dr Stanley, who was in no mood to tolerate weakness, thundered through the first and second aid stations apparently not in any need of aid. The ensuing ascent up Mt Cheeseman was particularly challenging due to strong winds and at times it was difficult to hold your feet. At one point, the wind had dislodged the lens from Dr Stanley's prescription glasses leaving him running semi blind. A few minutes later, I happen to see a black cap fly past me and crash into the tussocky mountain side. On turning around, I see Dr Stanley free of his glasses and now also without his trademark cap appearing visibly shaken. The attrition of the strong winds was beginning to take its toll and I wondered whether I was seeing the slow dismantling of the Stanley before my eyes. We pushed on together and managed to reach the aid station at the top of Mt Cheeseman and reorganised ourselves. We then hurriedly descended towards the shelter of the treeline and away from the wind. We maintained a steady pace along more forested undulating single trail. But it soon became clear that despite Andrew's earlier setbacks, he was dictating the pace rather than me. I knew my battle was still ahead and it can be quite unnerving to run faster than what you're used to so far from the safety of the finish line. Some people approach the enemy cautiously. Others throw caution to the wind and attack. Dr Stanley was the latter and was in full attack mode today. Around the 35km mark, I could no longer cling on and Dr Stanley pulled further away up a steep forest road and out of sight. He had commenced his assault against his enemy leaving me by myself to seek out and close with my own enemy. My own battle had begun. In preparation for the assault, I called upon my reserves – glucose and caffeine. It was all or nothing now.
Everything you prepare and train for in running leads you to this moment. The part where you want to stop. This is the most important part of any run. This is the reason we run! To face this moment. And how we respond to this moment is a measure of our worth and defines who we are. The enemies that were hidden and lying in wait begin their own assault. You become ambushed by fears, doubts, and thoughts of giving up. The enemy infiltrates your mind and your body screams at you to stop. The experienced runner knows that the adversary always lies within. The battle is no longer against the course or others, but a far more vicious personal battle against yourself. What follows are mini duels within the battle. Defence followed by counterattack. Sometimes even trying to hold a jog for 'seconds' becomes so hard that all you can do is walk. But even walking is better than stopping. And if you must walk, walk purposefully. Never give up. The most important thing is relentless forward momentum. The remaining 15km of the course becomes an internal tumultuous struggle and a battle of wills. You encounter others on the course fighting their own silent battles. Words of encouragement may help. But ultimately the battle is not yours but theirs to fight. The course offers its own final resistance near the end. A sharp climb up an unkempt hill side so steep that the organisers have had to install ropes to help you climb. One final assault. Time to fix bayonets. It is a slow and steady advance. An advance no longer powered by glucose or caffeine but only by unwavering and irrepressible belief. It's hard to beat someone who won't give up. Battle weary, I cross the finish line 7 hours and 45 mins later. I live to fight another day. Seek out and close with your enemy. Never give up. Running is medicine. Join me at my next blog, the Kepler Challenge in the beginning of December.
It's hard to beat someone who won't give up.
Unknown