Transalpine Run 2019 (273km/8days):
Multiday # 3
Date:
August 31, 2019
Wow! The Transalpine Run 2019 was an unforgettable experience! The event slogan is "Eight days / Four Countries / Two Runners / A Dream". Two runners must traverse more than 270km along the Transalpine Western route with greater than 16 000 metres of elevation gain over eight days. The event starts in Germany and participants run through Austria and Switzerland before finally finishing in Sulden, Italy. I had entered with my good friend and repeat offender Dr Andrew Stanley. We were the only participants from New Zealand this year and our team was appropriately named Running Medicine. We left Auckland on Tuesday night and transited in Singapore for 18 hours before arriving in Munich, Germany on Thursday. Pretty shattered, jet lagged, and with minimal Deutsch, we managed to arrive in the small alpine town of Oberstdorf, Germany via train and bus. Having never been to Europe before, this whole experience was an eye opener. Running allows you to experience many things including different parts of the world and new cultures. Everything was new from the breakfasts (amazing selection of deli, cheese, and baking) to the towns (narrow cobble stoned roads, colourful flowers flowing from windows, and chiming church bells), and of course the foreign language and ensuing language difficulties. There was also the temporal shift of having to walk on the righthand side of the path. For me a running holiday is the perfect escape! Experiences are enhanced and much more memorable when you are moving. Following a rather lively pre event pasta party, it wasn't long before we were both standing at the start line at Oberstdorf on Saturday morning. Excited but still horribly jet lagged and with confused bowels (which is never a good thing in ultra-running), we ran through cheering spectators ("Bravo! Super!") and upwards into the Alps.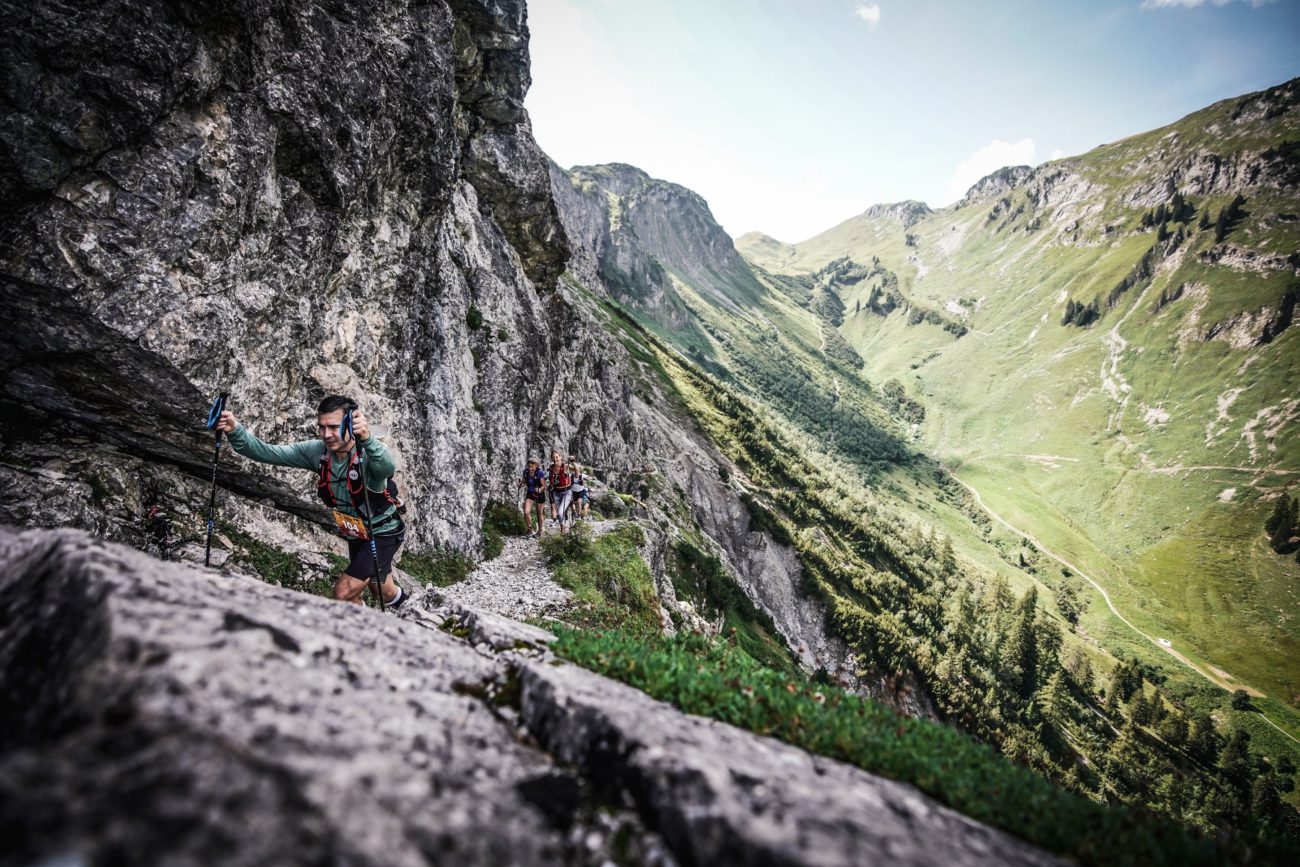 The first day was no easy feat – 39km and 2300m of ascent. Once we were clear of the town and started the ascent into the forest, I can remember thinking just how beautiful this part of the world was. As you start to warm up into your run, you allow yourself to notice what you notice and feel what you feel. The changes and feelings are subtle but evident if you are open to them. The air feels different, the trees have varying shades of green, the ground and foliage recoils differently, and the forest has different sounds. As you clear the tree line, the green pastures are bathed in warm sunlight. Purple flowers litter the fields. The brown cattle graze in the background as their bells lightly ring. The climbs are honest and require effort but soon you are side by side with the mountains and surrounded by panoramic views. Eventually you fall into a moving meditation. Soft of foot and breath. Freedom of breath and movement. This is when the 'running holiday' really begins. Surrounded by mountain tops and with your head in the clouds, your feet begin to fly. Before long, the mind flees with the body. Your thoughts freely wonder and there is a sense of timelessness. There is no past and no future. Just the moment. Encapsulated by living in the moment, the escape is complete.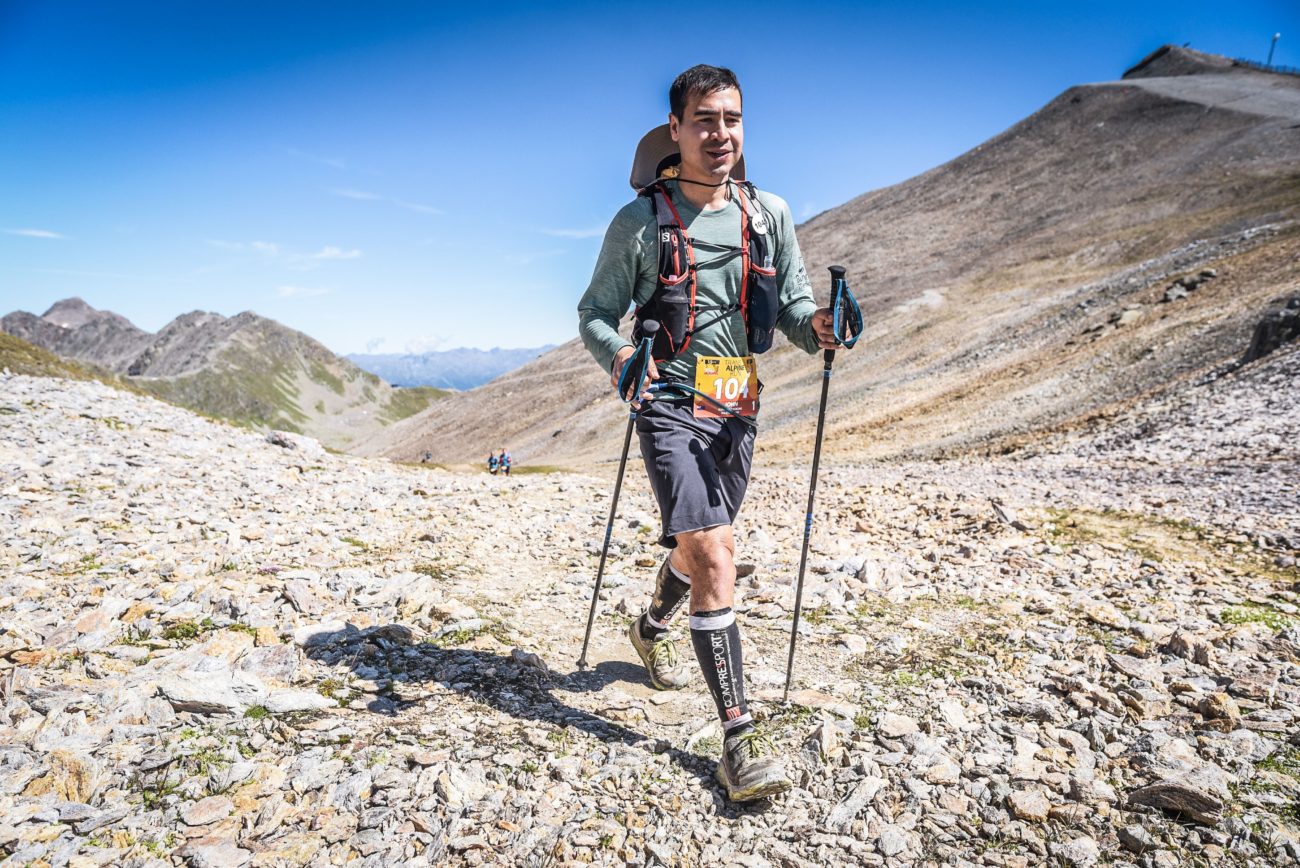 Although beautiful, this event was very challenging. An average day was 38km long with 2 000 metres of ascent. Arguably the Transalpine Run was one of the hardest things I have ever done. For the first three days I can remember moments where I was running scared. Nervous that we would miss cut off times and be disqualified. During day three, we were within one minute of not making an aid station cut off and not 'officially' finishing. Dr Stanley seemed to be battling the jet lag, altitude, and heat. I became slightly concerned when he was seen drinking from a cattle trough whilst unsteady on his feet complaining of a "feverish sweat". Things became slightly easier as our circadian rhythms adjusted, the bowels were retrained again, and the temperatures became cooler closer to Switzerland. Most days we started at 8am and most days we finished at 5pm. Although it was difficult to make out which country we were running in according to the natural terrain, there was a distinct variation in the house design and the people between the countries. We were lucky enough to stay in a hotel every night (versus the 'camping' experience). Each night became a well-rehearsed routine of cleaning, eating, and preparing for the next day. The following morning, a large breakfast to fuel all this climbing was crucial. Most days (if able) my breakfast would consist of bacon, eggs, cheese, porridge, cereal, fruit, pastries, and orange juice. Anything that tasted good and was tolerated by the gastrointestinal system was consumed. Then as sure as start lines, another day would begin. Get to the start line. Go up a mountain. Down a mountain. Go up another mountain and down it again. Get to the finish line in time. Repeat. Being a team event, you also had to cross all checkpoints within two minutes of your partner. This was challenging in itself as everyone has highs and lows at different times. Every night I would study the course profile and distances for the following day. My way of priming the mind for the ensuing challenge. Every night I also read this quote provided with our maps – "Make every minute count. If you can't run, walk. If a walk is too fast, do it slower, whatever. Make forward progress and repeat, every minute. Physical strength will get you to the start line, but mental strength will get you to the finish line."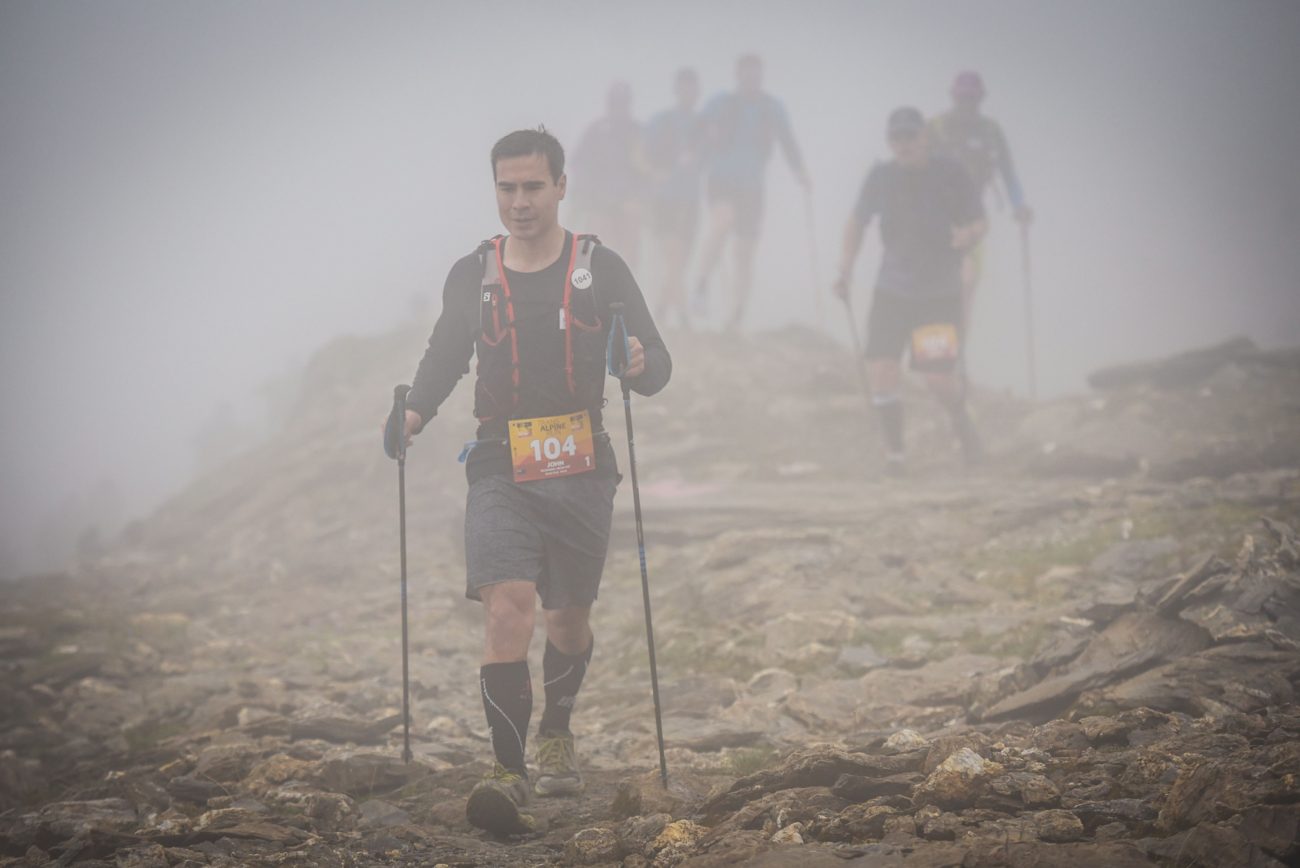 Some days it felt like the climbing would never end. Some days it felt like the mountain top was unreachable. Even our 'rest day' on day five in Samnaun, Switzerland (7.8km with 834m ascent) was challenging. Thankfully we were allowed to catch the gondola back down! Some days it was all about just putting one foot in front of the other. As simple as this sounds, I enjoyed doing this. My work is complicated. The medical problems are the easy part of my work. The real issue is that medical problems cause life problems ("I can't work, I can't carry on like this, I can't look after my family"). Life problems are hard. Running on the other hand is comparatively easier. I just have to put one foot in front of the other. Some people will call this mind numbing. For me it is very therapeutic and provides a medium to charge up my 'compassion batteries'. For a whole week I lived a simple and uncomplicated life. Eat, run, eat, sleep, repeat. Be it in sunshine, rain, mist, or snow. Life was simple. We all live such busy and complicated lives. Stop for a moment and declutter. Remember, the simple life is the fullest. And that every mountain top is within reach if you just keep climbing.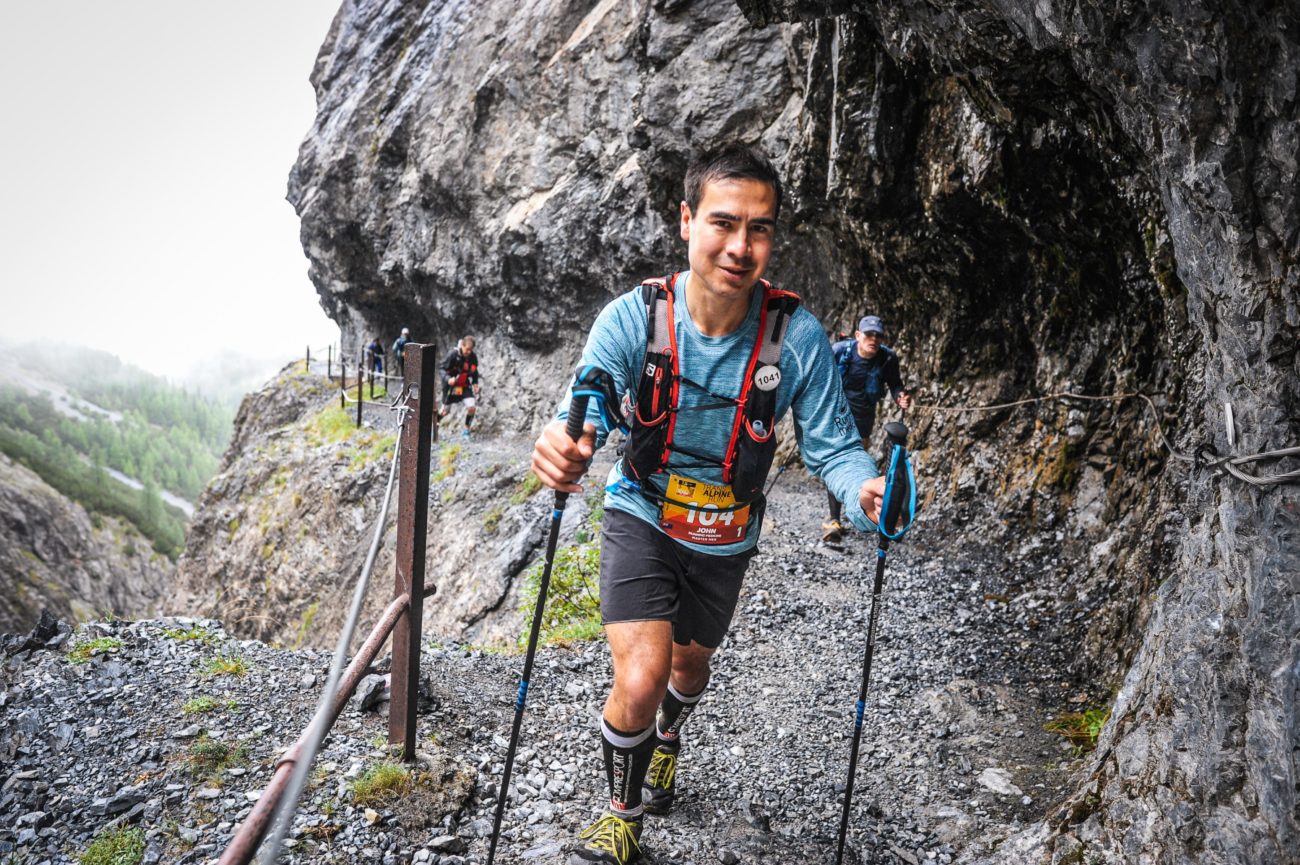 Up mountains, along rivers, past waterfalls, and through alpine forests. At first the images were crisp but after a while it all becomes a blur of white, green, brown, and grey. A blur of movement and sweat. The eye captures the image but sometimes you need to wipe the sweat off the lens. Throughout the week, there has been a lot of sweat. Sweat, in my opinion, is the best currency of health. Forget the Euro, the Swiss franc, the US dollar, or the British Pound. Health is wealth. Exercise is one of the best investments you can make in your health. And the best currency of health is not monetary, but sweat! As we approach Sulden in Italy, I look up and take a moment to appreciate my surroundings. The mountains are freshly dusted with snow. The feel and smell of the fresh mountain air is empowering. We are less than 5km to the finish and the fear of not finishing has long since evaporated. It is nice to run free and without pressure. For once I'm a bit reluctant to cross the finish line. Rather than speed up, I slow down to enjoy the moment. Dr Stanley on the other hand seems quite content for this whole experience to end (I think he had been praying for Sulden for a while). We've run more than 270km together, climbed more than 16 000 metres together, and crossed four countries together. All whilst sweating together over eight days. If you want to run fast, run alone. If you want to run long, run together! It's a lot more fun! Running is medicine. Join me at my next blog, the 4 Paws Marathon. It's not often you get to organise and participate in your own event so I'm really looking forward to this one. Hopefully Summer (Spanish Water Dog) and Walter (Spoodle) are too…
1st stage: Oberstdorf (GER) to Lech am Arlberg (AUT) – 39.4km, 2343m, 8:29:10
2nd stage: Lech am Arlberg (AUT) to St Anton am Arlberg (AUT) – 27.7km, 1787m, 6:35:55
3rd stage: St Anton am Arlberg (AUT) to Landeck (AUT) – 39.2km, 1968m, 7:51:30
4th stage: Landeck (AUT) to Samnaun (SUI) – 46.3km, 2895m, 9:46:33
5th stage: Bergsprint Samnaun (SUI) – 7.8km, 834m, 1:54:38
6th stage: Samnaun (SUI) to Scuol (SUI) – 40.5km, 2775m, 8:25:45
7th stage: Scuol (SUI) to Prad am Stilfserjoch (ITA) – 44.9km, 1698m, 8:06:53
8th stage: Prad am Stilfserjoch (ITA) to Sulden am Ortler (ITA) – 31km, 2591m, 6:26:36
Total time: 57 hours 37 minutes and 4 seconds
Helpful tip
If you want to run fast, run alone. If you want to run long, run together.