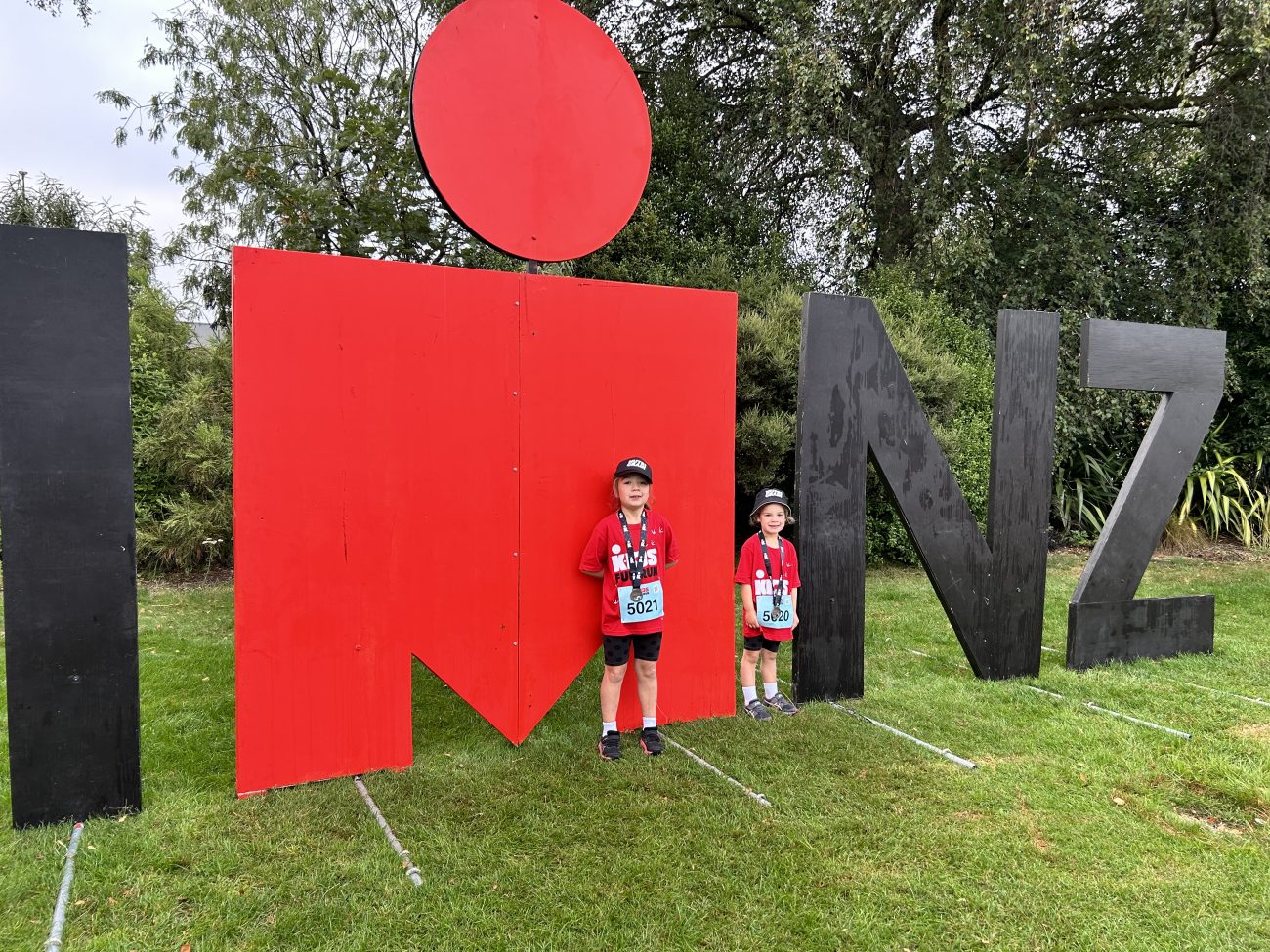 Ironman New Zealand 2023:
Ironman NZ # 14
Date:
March 04, 2023
Backing up Ironmans aren't easy. After doing the Covid rescheduled Ironman NZ in December 2022, the Ironman NZ in March this year would be my 14th Ironman NZ. After starting my long bike training in September, it was nice to head into my taper week knowing I wouldn't have to do any more long bike rides for another six months. Months of 6am Saturday morning 150km bike rides on at least a fortnightly basis after a week at work can really stretch you. I'd ridden through the rain and frosts of spring, the scorching heat of summer, and now the later sunrises and noticeably cooler air temperatures towards the end of February. It was like going through a full training circle! I arrived in Taupo with my wife Courtney and two children Millie (7 years) and Poppi (4 years). This year we had entered our kids into the Kids Fun Run. It was a 750m circuit which was all about having fun. No timing or placings would be recorded. The kids would finish by running through the same finisher's chute that all Ironman athletes would run through the next day. Halfway through, I'm cheering Millie and Poppi along when Poppi slows down to a walk and heads over in my direction. "My legs are sore" she says. I was in jandals and wasn't expecting to run but determined to keep her going, I join in beside her. "Come on, let's keep going" I urge. There's a bit of over exaggerated encouragement and cheering until we eventually build up to a slow jog again and push on to the finish line together. Millie is waiting at the finish line and shouts "Well done Poppi!" They each receive a finisher's medal and I take a photo of them on the finisher's podium. Though I'd like my girls to do an Ironman in the future, I'm sure each will carve out their own exercise paths. All I can do as a parent is encourage and expose them to events like this. If I can normalise physical activity in their younger years, then there's a good chance they will take this with them into their adult years. There's a quote I love from  novelist Joyce Maynard who writes "It's not only children who grow. Parents do too. As much as we watch to see what our children will do with their lives, they are watching us to see what we do with ours. I can't tell my children to reach for the sun. All I can do is reach for it myself." Being the best version of yourself will rub off on your children too. Yes, I admit Ironman is a bit of selfish sport. But there's no such thing as an 'on demand Ironman'. Getting to an Ironman start line requires discipline and consistent effort. Succeeding requires discipline and consistent effort. The benefits of training aren't just physical but encompass many important life attributes (e.g. focus, persistence, commitment, not giving up). If I want my kids to be physically active and succeed in life, then I need to walk the talk myself. Every year, each Ironman athlete gets a personalised letter in their race pack from a local school kid. The night before the race, I read mine which was from Caleb in Room 11 from Taupo Intermediate. You trained for this all year. Try your hardest and don't give up. When you finish, I think you should go to McDonalds and then you should go to the debriefs. At a young age, I think Caleb's grasped the important parts of Ironman pretty well. Try your hardest, don't give up, and post event treat food! Sounds like great advice to me!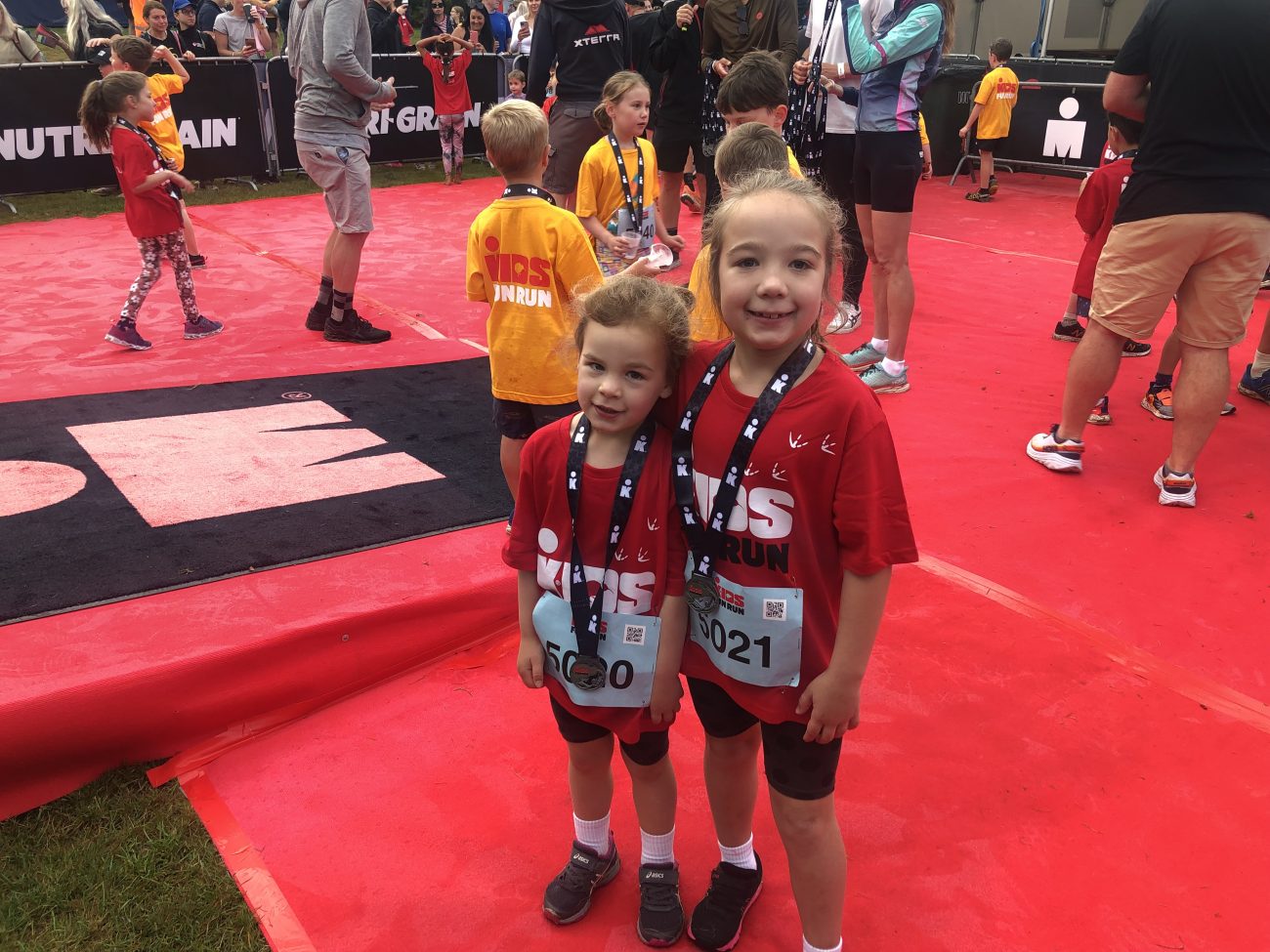 As is usual of late, I'm awake before my 6am alarm. I'm not feeling a 100% as I'm still recovering from a classic Ironman tapering cold I developed mid-week. But I've had a couple of days to mentally prepare for this and I'm feeling better than yesterday so that's good enough for me. There's no way I was going to let a common cold derail my Ironman after months of training. This year, our motel was only 5 minutes walk from bike transition so I decided to head over to transition early before the kids woke up. I dropped off my bike drinks and pumped up my tyres to a firm 120 psi. By the time I'm back, its 6.30am and there's still heaps of time before the 8am start. However, time can fly pre-event and it always seems to be that your kids sleep in when you need them to wake up early. We turn on the lights and play Meghan Trainor's 'Made You Look' on repeat to try rouse them. By 7.40am, I'm in my wet suit and we all start walking along Lake Taupo towards the swim start. As we get closer to the transition area, some of the Ironman 70.3 (Half Ironman) athletes are already coming out of the water and heading towards their bikes in transition. It's a bit congested with competitors racing and supporters everywhere so we actually end up on the wrong side of the road and unable to access the swim start from our position. I have a wee panic realising that we need to backtrack in order to cross over. It's already 7.50am and ideally I'd like to be in the water warming up by now. When we eventually manage to cross over, I say a rushed goodbye to Courtney and the kids. I'm now right at the back of the swim cue with the purple capped swimmers so I urgently manoeuvre through the crowd so I can join the green capped swimmers I've been allocated to. The swim start is a deep water start so the best position to start is actually 50-100m away from the shore where the starting buoy is. However, a large group of swimmers are either still hanging around on the shore or waist deep in  the water not willing to lose contact with the ground just yet. As I start to swim around them, I hear the starter's canon. Bugger! I'm about half way out and well behind the start line and not in a favourable position at all. I know this because there's barely anyone around me and I can see a wild wash of people ahead of me. For the first 5 minutes, although I was swimming alone, I didn't mind this too much as it meant I could ease into my swim. However, it's not long before I'm eventually joined by a large wash of swimmers from my left (all the shore and shallow water starters) who are now trying to jostle for the best deep water position next to the buoys. It's a bit of carnage and I try to hold my own and maintain my rhythm. I'm not the most confident swimmer and prefer my own personal space so I try to keep away from some of the big volatile bodies in the water. About a quarter of the way through the swim, navigating from buoy to buoy becomes increasingly difficult and it's as if the surface of the lake is covered with fog. Unable to see too far ahead of me, I'm forced to follow the group of feet in front of me and hope they're taking the most direct route. I did this for a while until I realised something wasn't right as the fog only seemed to be ahead of me and not to my left or right. When I took an exaggerated neck extension to look ahead and could see the buoys again, it dawned on me that the top half of my googles had fogged up. In my rush to get into the water, I hadn't put my googles on perfectly and now I was paying the price. I'd also put my swim cap over my googles so to address this problem would be a fidgety two step procedure. Though many aspire to have 'the perfect ironman race', the reality is that this is not the norm. I can't think of one Ironman where I haven't had to troubleshoot something. In this case it was, do I persist with reduced vision or readjust my googles and risk getting water into them (which is just as frustrating and can take multiple attempts to resolve)? I decide with the 'better the devil you know' approach and persist with my fogged up goggles. However, it also meant that I had to trust those ahead of me to guide the way which I felt uneasy about. I continued with this approach for about three quarters of the swim until suddenly a miracle occurred. A tiny circle clearing formed in my condensed googles such that I could see again! It was about the size of a pea but it was all I needed. Being able to see the buoys again, I picked up my speed and forged ahead confident in my own navigation abilities. I cornered the final buoy and headed towards the swim finish. One hour and 36 minutes later, my feet could touch the ground again. It was a relief to finish and I was happy to put that experience behind me. 3.8km down, 222.2km to go.
Though the swim makes me the most nervous, the bike leg of an Ironman is my least preferred. I know that for psychological reasons I'm not meant to think like this. But the bike's a hard sell. In a nutshell it's go for a 180km bike in the heat of the day between 9.30am-4.30pm. Ride by yourself because drafting is not permitted. And lunch is your responsibility and needs to be sorted on the move. Do this, and you're lucky enough to start a marathon. As I bike up Rifle Range Road to begin my first 90km loop, I see Courtney and the girls waving and cheering. It's a nice lift and I wave back in a restrained manner knowing that I need to conserve all my energy for this barbaric bike ride. As I head out towards Reporoa, the conditions are very pleasant. The sun is out and it isn't too hot yet. The weather forecast predicted 23 degrees Celsius with light southerlies and an average wind speed of less than 10km/hr. I knew that a southerly wind meant that I'd have a tailwind to Reporoa and a headwind coming back into Taupo. Though I'd trained in much stronger winds (average wind speed in Christchurch is normally in the teens to early 20s), I also knew that biking consistently into a light headwind can be very tough. Aware of this, I held back during the first leg out to Reporoa and took it easy. As I approached the 45km turnaround at Reporoa, I was feeling pretty good. I was passing people and my legs felt light. I looked at the other cyclists' faces coming back inbound for clues on any headwind but they didn't appear to reveal too much suffering. Poker faces or not? I thought. There also wasn't too much movement in the trees. This could be perfect conditions. Maybe there is no wind? As I reached the turnaround point, the course showed its hand. As predicted, there was a persistent warm Southerly headwind all the way back to Taupo. Initially it didn't appear too bad but it slowly smothered your will. The headwind combined with the uphill climb back into Taupo began to take its toll. Riding up the hills, I started to feel more fatigued than desired and also developed a stitch which is not very common whilst biking (compared to say running for instance where there is a bit more jostling involved). Was I drinking too much? Was I riding the uphills too vigorously? Is my sickness catching up with me? Regardless, I slowed and started to get passed again. When I reached the halfway point of the bike, I had biked 90km in about 3hrs and 15 mins. It was 1pm and the sun was puffing out its big yellow chest. I stopped at the bike special needs tent to pick up my frozen drinks and cookies/chocolates. One volunteer who noticed my golden race number (given to those with 10 or more Ironman finishes) asked how many Ironmans I'd done. Feeling a bit worse for wear I responded "Too many!" As I headed back out to Reporoa again, it was good to have a tailwind but my stitch continued to annoy me and hold me back. I simply couldn't stop eating or drinking otherwise I'd be destroyed by the marathon. Aware that there was a bit of downhill coming out of Taupo, I knew this was my only opportunity to address this short of stopping completely. I reduced my intensity going down the hills and gave myself permission to stop pedalling for short periods whilst the heavier riders thundered past me. The tactic seemed to work and finally after about an hour of trying to manage it, my stitch eventually resolved. I was able to push harder and picked up the pace on the flats again. By the time I had reached Reporoa again, the frozen drinks I had picked up 90 minutes earlier were lukewarm. As I turned around, I knew this would probably be the hardest part of my Ironman today – a 45km warm headwind all the way home. It was head down, bottom up. At some stage during an Ironman, you'll reach the point where you simply don't give a shit anymore. Tired as I was, I knew there was no point holding anything back now. It was time to throw caution to the wind. When you've been on a bike for more than 5 hours, there ain't too much to enjoy about life so I had a strong desire to get off this dastardly bike as quick as I could. I pushed hard into the headwind. Attack, recompose, attack, recompose. By 160km, the pressure from the pedals on my bike shoes was starting to get a bit unbearable. Knowing I still had a further 10km of incline and a couple of nasty hills to go, I succumbed to the pain and pulled over at the next toilet stop. I whipped off my shoes and proceeded to enter the portaloo when one of the volunteers shouted out "You might want to leave your shoes on, the floor's pretty gross in there." "That's the least of my worries" I responded. "My feet are killing me!" "And you've still got a marathon to run!" she gasps. "I'll be in my running shoes by then, I'll be fine" I reply. Relieved of the pressure from my feet and bladder, I feel like a new man and I'm on my way again. As I climb over one of the last major hills, a sign on the side of the road reads "That was the easy part. Now just a marathon to go!" When I finally arrive back into bike transition, it's just after 4.30pm having completed the bike leg in just under 7 hours. Sometimes the thought of doing a marathon is harder than actually doing a marathon. I quickly change into my running gear, smother myself with sunscreen, and put on my trusty wide brimmed hat. Before my mind can comprehend what I'm about to do, I've left transition and have started running.
As I set off, my heart rate is going through the roof but I'm relieved to be on the run course. I find the swim and bike the hardest part of an Ironman whereas with running, it's the one thing I'm remotely good at. In saying that, no matter how good your run legs are. Running a marathon after biking 180km is no laughing matter. As mentioned earlier, sometimes the thought of doing a marathon is harder than actually doing a marathon. It's important that you come prepared with a good nutritional and psychological plan to deal with this or else the marathon will dismantle you. More recently, I've started using my running vest again so I can administer 'aid' during the course rather than only at aid stations. Having all my iced drinks, food, and supplements on me at all times reduces the loitering time at aid stations and allows me to 'move through aid stations' without breaking momentum. As in previous years, I left my watch at home to take some of the pressure off. As its easy to be overawed by distance, make your life easier by working with small numbers. The newly designed run course is now 4 laps so it makes sense to break the run down into four small achievable sections. Better still, at the turnaround point just outside of town, you're given a different coloured wrist band each time you pass so you've got something tangible to show for your efforts. If you stick with the above, knowing the exact distance you've run at any point in time is not particularly important. So, the focus of my life for the next 4-5 hours was simply to get wrist bands and keep moving. At the first turn around point, it's the blue wrist band. You then have to run back towards the town centre (which is slightly easier due to the multitude of supporters cheering you on) and turn around again. Next goal is the orange wrist band, followed by the pink, and then finally the yellow wrist band. The key lies in maintaining momentum and not floundering between the two turnaround points. Kind of like a running version of ping pong where you want to avoid the net (aka 'the wall') in the middle. Gamers out there may also find it easier to think of the marathon as a game of Super Mario Bros. Imagine each runner as like a gold coin (pass enough and you'll get a 1 up life) and each wrist band as like a Powerup Mushroom such that when you receive your last wrist band, you'll also receive an Invincibility Star that will get you all the way to the finish line. As silly as some of this may sound, I guarantee you'll find it a lot easier than counting each of the 42 kilometres you need to run. After a 3.8km swim and 180km bike ride, the simple thought of running a marathon will wear you down and you could be mentally fried within 10 kilometres. As the day becomes night, it becomes much cooler and running becomes more tolerable again. Courtney and the girls had positioned themselves somewhere between the turnaround points and their encouragement helped me get through that testy middle ground. When I finally cross the finish line, it's just after 8.30pm. I completed the marathon in 4hr and 42 mins for a total finishing time of 13 hours and 32 mins which I'm happy with. It wasn't the perfect day but I've lowered my expectations over the years. There are so many variables in Ironman and not everything will go to plan. A lot of the time it's about staying calm, managing any problems that arise, negotiating the difficult times, and learning to win ugly. Any Ironman finish regardless of the time you finish is a massive achievement! If you have the desire, discipline, and willingness to put in consistent effort, then finishing an Ironman is not beyond anyone. If you think you can, you should. As Iron Mike Stowers would say "Finishing is winning!" Running is medicine.
Helpful tip
Sometimes the thought of doing a marathon is harder than actually doing a marathon